Part of our ongoing series of Book-It interviews conducted by TeenTix writers.
by Camilla Franklin, Book-It TeenTix Writing Project Contributor
Camilla Franklin spoke with Literary Manager Josh Aaseng about pioneering Book-It's late-night series Circumbendibus, his various positions in the theatre world, and what books he might like to see onstage someday.
---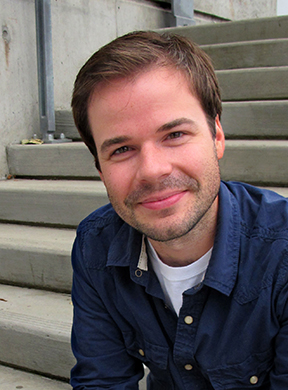 To begin with, what does the position of "Literary Manager" consist of?
It's an artistic development position. I work with the artistic directors on the season selection and also maintain relationships with publishers and authors. I've also been helping to pioneer a new variety show project called Circumbendibus in which we will be doing a series of site-specific theater productions. The name Circumbendibus means "a roundabout way" or a detour. We'd been thinking about a name— something unique. The idea of a synonym for an "indirect approach" came up so we looked in the thesaurus and found "Circumbendibus."
What sorts of shows make up the Circumbendibus project?
For our pilot project we're doing three volumes. I'm directing the first one, which is based on the book Jesus's Son by Denis Johnson and will be set in a restaurant-bar called The Rendezvous. It's a series of short stories with one narrator that intersect in different ways. The second one is based off of food writing and will be at the Dahlia Lounge, and the third will be based on geek fiction and comic books.
Did you start with a book and scout locations or find a location you loved and try to find a story to inhabit it?
The story came first. A writer who is a friend of Book-It brought it to our attention but we weren't sure if it would fit with what we do on the main stage. When Circumbendibus started, I thought it would be great to adapt it for a site-specific project.
What is the process of translating material such as culinary writing into script format like?
If you have written word, you can translate it into the Book-It style. I would say the foodie show is a devised piece of theater in the Book-It Style™. If you have good material, whether it comes from a magazine or a blog or a cookbook or an especially saucy recipe, it makes for a good narrative.
A lot of people tie their definitions of the concept of theatre to the physical location of a theater. How do you personally define theater?
I would say that theater is about an interaction between a performer and an audience in a moment. The shared experience at that time and in that space is incredible. Because of that, I don't think theatre is tied to a physical theater.
Was there anything especially intriguing or challenging about a site-specific production?
I was struck by the challenge of moving an audience from space to space and asking them to change rooms—there's a small, 50-seat theater section of The Rendezvous, but there's also a bar where action will take place. Most of the time, when people go to the theater, they sit down to watch something, so this requires a little more on their part.
In a more intimate setting, what happens to the fourth wall?
In the book, the first-person narrator talks directly to the audience, but I'm not entirely sure how it will play out in the production. I think it will be a deconstruction of the fourth wall.
What is it like doing theatre administration as opposed to acting and directing?
They all work different muscles. In an administrative position, I like the organizing and collaborating and the stability. I like getting to work in the arts regularly, and being on the ground level of the process.
How does the season selection work and what is your role in it?
The artistic directors come up with a list of books they are interested in, and I read them and go to authors and publishers to see if they are interested.
When you read books on your own time, do you ever imagine how they would translate to the stage?
That definitely happens, especially in this position. It's great, but sometimes it can be annoying because it's harder to experience a book for the sake of a book.
Is there any book in particular that you would love to see brought to the stage?
Wow… maybe something by Cormac McCarthy. His language is so evocative, but also spare. Maybe The Road. There is a film of that though, and we like to do a play before there is a film of it because our take on it is more wholly uninfluenced by the film's presence.
How did you first get involved in theatre and when did you decide to pursue it as a career?
The first play that gave me the "bug" was in seventh grade. We did To Kill a Mockingbird and I played Dill. A little while later, maybe freshman or sophomore year of high school, I decided I wanted to be a professional actor or director. My interests have changed, and realities such as bills have led me to where I am now.
Is there a character you played or a show you were involved in that really affected you?
Probably the role that had the most impact on me was the fool in King Lear. It taught me to really take on a role with abandon and not think about myself in it.
What values do you think are important for people who want to be involved in theatre professionally?
You need to have lots of energy, be really persistent, and look for even the tiniest little open doors. You have to be willing to work really hard—it's not easy, but it's really fun.
---
Click here for more information about our new late-night series, Circumbendibus.