Here's a little almost-real-time diary of what Book-It's staff and other office denizens are up to as we get ready to open Owen Meany's Christmas Pageant tonight (in no particular order):
---
Annie Lareau (Director of Touring) is prepping for a contract meeting with the case of the touring show, Skippyjon Jones, and working on material for our upcoming Novel Workshop Series.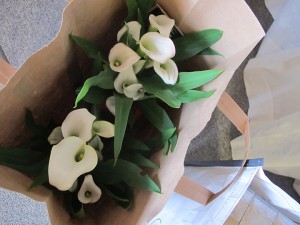 Bill Whitham (Bookkeeper) is reconciling our bank accounts and many other miscellaneous things.
Josh Aaseng (Literary Manager) is planning for the final installment of Circumbendibus and working on getting literary rights to works for the Novel Workshop Series. (He plays Owen in the show and will go to rehearsal this afternoon.)
Myra Platt (Co-Artistic Director) is attending final Owen Meany rehearsal this afternoon, but beforehand is working on notes and flowers for the cast of the show.
Julio (Seattle Center plumber) is in the office following up on a previous water leakage problem; he reports that "all is dry."
Patricia Britton (Marketing and Communications Director) is putting together press kits for this evening and finalizing press materials for Circumbendibus, Volume III: Geek Out. She is also juggling last-minute VIP ticket requests.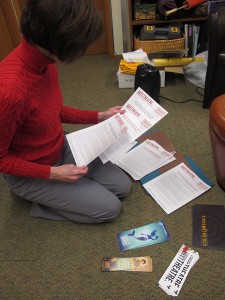 Rachel Alquist (Box Office Manager) is finalizing the seating for this evening's attendees.
Gail Sehlhorst (Director of Education) is creating learning materials for Skippyjon Jones and curriculum for the company's residency around Adventures of Huckleberry Finn at Roosevelt High School.
Erin Pike (House Manager, Volunteer Coordinator) is working her OTHER job in the morning, then coming in to set up the lobby for the big night when she will oversee a dozen volunteers.
Jane Jones (Co-Artistic Director) is taking a wee breather in the morning, then rehearsing her cast one final time this afternoon.
Christine Mosere (Development Director) is home caring for her sick child.
Bobbin Ramsey (Artistic Intern) is collating materials from past Arts & Education program touring shows to send to literary agencies.
Shannon Erickson (Publications and Media Manager) is feverishly uploading press photos to the website and running back and forth to FedEx a few times with last minute print jobs for lobby displays (She is also in the show and will go to rehearsal this afternoon.)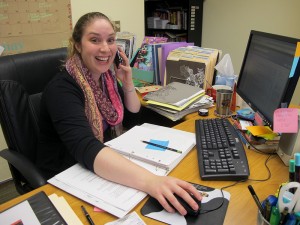 Natasha Ransom (Education Associate) is developing the Themes in Motion workshop for the tour of Never Forgotten.
Charlotte Tiencken (Managing Director) is meeting with funders.
Samantha Cooper (Development Associate) is helping her mother celebrate a big birthday in Las Vegas!
Anders Bolang (Production Manager) may be taking it a little easy today after a tough week of tech. Whew.
Tori Thompson (Production Stage Manager) is prepping for this afternoon's rehearsal and trying to decide what to wear to the party after the show.