2016-2017 MAINSTAGE SEASON
For 27 years Book-It has assembled seasons that mix classic works with contemporary, entertainment with thoughtful themes, and challenging ideas with pure celebration.
Every story in our 2016-17 season gives us a compelling perspective on the universal search for self. Who are we? Why are we here? What does it all mean?
We are so excited to share them with you.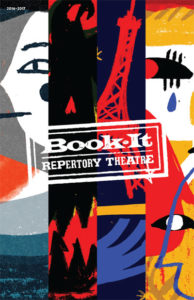 A TALE FOR THE TIME BEING, by Ruth Ozeki
Adapted by Laura Ferri (Broken for You), Directed by Desdemona Chiang (Book-It debut)
September 14 – October 9, 2016
In Tokyo, 16-year-old Nao's only solace is her diary. Across the Pacific, Ruth is a novelist living on a remote island who discovers a collection of artifacts washed ashore in a Hello Kitty lunchbox—possibly debris from the devastating 2011 tsunami. As a mystery unfolds, Ruth is pulled into the past, into Nao's drama and her unknown fate, and forward into her own future. A Tale for the Time Being is a brilliantly inventive, beguiling story of our shared humanity and the search for home. Read more…
TREASURE ISLAND, by Robert Louis Stevenson
Adapted by Bryan Burch Directed by Corey McDaniel (Book-It debuts)
November 22- December 24, 2016
Book-It Repertory Theatre continues its 27th season with the gripping classic Treasure Island. Full of enthralling characters and one of literature's most beloved villains, Treasure Island explores the moral ambiguity of Long John Silver and his complex relationship with the young Jim Hawkins. Throughout the thrilling adventure, Hawkins learns hard lessons about friendship, loyalty, courage, and honor as well as the blurred line between good and evil. The most popular pirate story ever written in English, Treasure Island is sure to delight audiences this holiday season! Read more…
Age Recommendation: 12+ for some swashbuckling violence.
A MOVEABLE FEAST, by Ernest Hemingway
Conceived by Jane Jones & Judd Parkin
Adapted by Judd Parkin (Adventures of Huckleberry Finn: Uncensored, The Dog of the South)
Directed by Jane Jones (The Cider House Rules, Adventures of Huckleberry Finn: Uncensored)
A theatrical culinary experience at Café Nordo in Pioneer Square
February 9 – March 26, 2017
We are thrilled to pair great literature with delectable food in an artistic collaboration with Café Nordo. You will enjoy a four-course meal that deliciously underscores a signature Book-It theatrical experience.
Ernest Hemingway's A Moveable Feast captures what it meant to be young and poor and writing in Paris during the 1920s. A correspondent for the Toronto Star, Hemingway arrived in post-WWI Paris in 1921 with his wife Hadley where they kept company with a slightly rag-tag circle of artists and writers—some would achieve fame, others would fall into obscurity—in the salon of Gertrude Stein at 27 Rue de Fleurus. A Moveable Feast is at once an elegy to the remarkable group for expatriates—including F. Scott & Zelda Fitzgerald, Ezra Pound, and James Joyce—that gathered in Paris during the '20s and a testament to the risks and rewards of the writerly life. Read more…
WELCOME TO BRAGGSVILLE, by T. Geronimo Johnson
Adapted by Josh Aaseng and Daemond Arrindell
Directed by Josh Aaseng (Slaughterhouse-Five, Jesus' Son)
June 7 – July 2, 2017
Book-It presents a darkly funny, world-premiere adaptation of Welcome to Braggsville, a novel by T. Geronimo Johnson. When good ol' boy D'aron Davenport lets it slip that his hometown in Georgia hosts an annual Civil War reenactment, his new friends at UC Berkeley plan to stage a protest in the form of a "performative intervention." Armed with youthful exuberance and misguided ideas of the South, the intervention has devastating consequences. Welcome to Braggsville is an astonishing, razor-sharp satire of contemporary American issues following a college student whose personal tragedy becomes the center of a national media storm. With a sincere heart, this coming-of-age novel for a new generation intimately explores how all Americans are linked to — and culpable in — the country's racial injustices. Read more…