Check out the resources below to dive deeper into the topics of Welcome to Braggsville.
Panel Discussion
Panel discussion on June 11, 2017
Blog Posts
Letter from Co-Adapter Daemond Arrindell
Liberalism and Protest at UC Berkeley – A History
Performative Intervention as Art
Interviews with the Author
PBS with Tavis Smiley
Interview with T. Geronimo Johnson in Deep South Magazine
Writers on Writing
Recommended Books
Non-Fiction
Waking Up White, and Finding Myself in the Story of Race, by Debby Irving
From #BlackLivesMatter to Black Liberation, by Keeanga-Yamahtta Taylor
Black Reconstruction in America: An Essay Toward a History of the Part Which Black Folk Played in the Attempt to Reconstruct Democracy in America, 1860–1880, by W.E.B. Dubois
The New Jim Crow: Mass Incarceration in the Age of Colorblindness, by Michelle Alexander
Ghosts of Jim Crow: Ending Racism in Post-Racial America, by Michael Higginbotham
Why Are All the Black Kids Sitting Together in the Cafeteria: And Other Conversations About Race, by Beverly Daniel Tatum
Simming: Participatory Performance and the Making of Meaning, by UW Professor Scott Magelssen
Fiction
Hold It 'Til It Hurts by T. Geronimo Johnson
Salt by Nayyirah Waheed
Americanah by Chimamanda Ngozi Adichie
Recommended Articles
"The Birthmark of Damnation: Ta-Nehisi Coates and the Black Body" by R.L. Stephens
"8 Stereotypes About the South That Are Just Plain Wrong" by Ginger Stickney
"What Privilege Really Means (And Doesn't Mean) – To Clear Up Your Doubts Once and For All" by Maisha Z. Johnson
"The Heart of Whiteness: Ijeoma Oluo Interviews Rachel Dolezal, the White Woman Who Identifies as Black" by Ijeoma Oluo
"On Political Correctness" by William Deresiewicz
"Black Liberation and Left Renewal" by Jordan T. Camp
"Georgia History: Overview" by James C. Cobb and John C. Inscoe, University of Georgia
"A Short Description of Cultural Appropriation for Non-Believers" by Rajeev Balasubramanyam
Local and National Groups
ACLU of Washington
Central District Forum for Arts and Ideas
Coalition of Anti-Racist Whites
Earth Pearl Collective
DSA Anti-Racism Working Group
Southern Poverty Law Center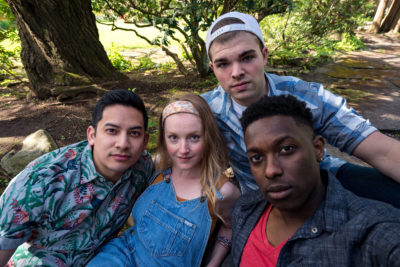 The razor-sharp Welcome to Braggsville runs June 7-July 2, 2017. Tickets available here. Author T. Geronimo Johnson will be in town for a conversation with Co-Adaptors Josh Aaseng and Daemond Arrindell on June 24. Tickets are $15 and available here.