Adventures of Huckleberry Finn: Uncensored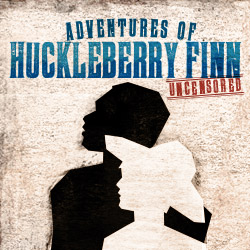 April 16 – May 12, 2013
by Mark Twain
Conceived by Jane Jones & Judd Parkin
Adapted by Judd Parkin | Directed by Jane Jones
Pay What You Will Previews: Apr 16, 17
Preview: Apr 19
Opening Night: Saturday, Apr 20
Now available for licensing! Please contact Josh Aaseng, Literary Manager, at Licensing@book-it.org for availability and pricing.
Huck Finn is an iconic fixture in America's literary canon, and with Twain's nuanced depiction of escaped slave Jim as a fully realized human, the novel presented a moral awakening for readers in 1885.
Why "Uncensored?"
Book-It has a goal of honoring an author's intent and narrative. Huck Finn has traditionally been censored in language and content, and we want to let our audiences in the greater community know that the novel will be performed as written.
Cast
Evan Crockett
Gin Hammond*
Ronnie Hill
Russell Hodgkinson*
Theresa Holmes
Peter Jacobs*
Christopher Morson
Hannah Nielsen
Geoffery Simmons*
Keenan Ward
*AEA Member
Artistic Team
Andrea Bryn Bush, Scenic Designer
K.D. Schill, Costume Designer
Andrew D. Smith, Lighting Designer
Matt Starritt, Sound Designer
Kristyne Hughes, Properties Master
Dan Wheetman, Composer
Theresa Holmes, Music Director
Isaac Waring, Dialect Coach
Victoria Thompson, Stage Manager
Nina Trotto, Assistant Stage Manager
PRESS
Panel dives into 'Huckleberry Finn' in advance of Book-It show
Seattle Times, 3/29/13
Bruce Ramsey: Mark Twain's 'Huckleberry Finn' a novel worth saving
Seattle Times, 4/9/13
Play review: Adventures of Huckleberry Finn: Uncensored
The Daily (UW), 4/21/13
Huck Finn: Uncensored in New Production by Book-It
Drama in the Hood, 4/21/13
Book-It's engaging Huck and Jim navigate the n-word
Seattle Times, 4/22/13
Stage: Twain at Full Depth
Seattle Weekly, 4/23/13
Stupid Title, Damn Good Show
The Stranger, 4/24/13
Book-It's Talk-Back 'Twain Talks' Tackle Issues of Race in Today's America
Spark, The Online Magazine of Humanities Washington, 4/26/13
Warts and all – Book-It's Huck Finn gives you the unvarnished Twain
Seattle Gay News, 4/26/13
Book-It goes whole hog with Huckleberry Finn
Seattle Theater Examiner, 4/28/13
Book-It's "Adventures of Huckleberry Finn: Uncensored"
Anthea Carns, 4/28/13
"The Adventures of Huckleberry Finn Uncensored" à la Book-It Repertory Theatre
Nancy Worssam, 4/28/13
Adventures of Huckleberry Finn: Uncensored
NW Adventures, 4/29/13
Huck Finn Drifts Down the Mississippi and onto the Book It Stage
Poshy Magazine, 4/29/13
Adventures of Huckleberry Finn: Uncensored
Seattle Actor, 4/29/13
---

Book-It teamed up with nationally renowned Twain scholars, Central District Forum, the Northwest African American Museum, and Seattle educators to discuss the controversy of Twain's acclaimed novel and issues of race in America.
Building a Raft—A Close Reading of Adventures of Huckleberry Finn
Post-Show Talk Back
CD Forum Pre-Funk and After Glow
Supper with Scholars
On the Human Race—Perspectives on Twain, Race, and Our Community
Post-Show Talk Back
CD Forum After Glow