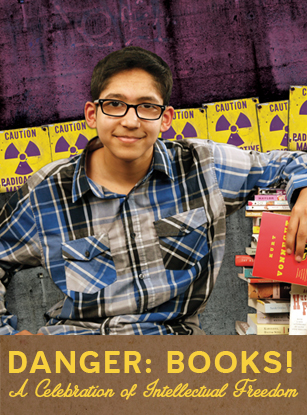 GRADES 6 – Adult
TOURS Sep – Dec, 2014
THEMES censorship, First Amendment rights, artistic freedom
EVENTS Banned Books Month, Teen Read Week, Young Readers Day
Danger: Books! is an ongoing series of readings from books that have been banned or challenged in the United States. The list of banned and challenged books continues to grow, so each year we offer a new selection of controversial readings. Past programs have included excerpts from Slaughterhouse-Five, Beloved, Adventures of Huckleberry Finn, Geography Club, Baby Be-bop, Fallen Angels, And Tango Makes Three, and Alice on the Outside. Professional actors perform selections in the Book-It Style, then facilitate a discussion on censorship and the First Amendment.
PICTURED: Devon Lamoreaux (16); Photo by Chris Bennion