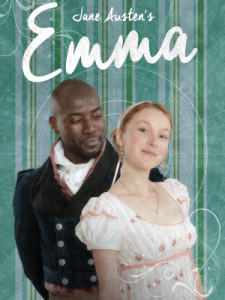 by Jane Austen
Adapted by Rachel Atkins
Directed by Carol Roscoe
Originally produced by Book-It in 2009 under the direction of Marcus Goodwin
December 2, 2015 – January 3, 2016
Pay What You Will Preview: Dec 2
Previews: Dec 3, 4
Opening Night: Saturday, Dec 5
Running time: 2 hours, 40 minutes (incl intermission)
Young and privileged, Emma Woodhouse has the world on a string. But when she begins playing matchmaker to her friends and neighbors in Highbury, she learns the hard way that when it comes to love she hasn't got a clue.
Jane Austen wrote Emma in 1815 and Book-It is thrilled to celebrate this special anniversary and the holidays Regency England-style.
---
Below is a Study Guide for Emma that we hope will enhance your experience of the production.

CAST & CREW
Cast
Christine Marie Brown*
Sylvie Davidson*
Jaryl Draper
Meme Garcia
Laurence Hughes
Sylvester Foday Kamara*
Serin Ngai
Arjun Pande
Sara Porkalob
Kylie McKenzie Soder
Brian Thompson*
Dedra D. Woods
Jeremiah Givers*, Stage Manager
Shane Goldbaum-Unger, Assistant Stage Manager
*denotes members of Actors' Equity Association
Last Weekend for Book-It's Emma
HeedtheHedonist.com, January 1, 2016
Book-It's 'Emma' adaptation still relevant
Queen Anne & Magnolia News, Starla Smith, December 22, 2015
Sylvie Davidson Steals the Show in Book-It's Flawed, but Enjoyable Production of Emma!
Seattle PI, Xavier Lopez, Jr., December 15, 2015
Impish Emma Casts a Giant Shadow
Northwest Adventures, Don and Peggy Doman, December 10, 2015
Sprightly "Emma" Brings a Touch of Summer Love
Miyam's Theater Musings, Miryam Gordon, December 10, 2015
Book-It's 'Emma' needs more of that Austen sparkle
Seattle Times, Misha Berson, December 11, 2015
Emma by Jane Austen
Drama in the Hood, Marie Bonfils, December 8, 2015
Static but Still Fun EMMA at Book-It Repertory Theatre
Broadway World, Jay Irwin, December 7, 2015
Book-It Repertory Theatre to Present Emma This December
Broadway World, Nov 5, 2016
EVENTS
Stitch & Bitch – a FREE embroidery/gossip fest in the Center Theatre lobby. Bring your own or lean on us for advice and supplies. RSVP here.
See the show that evening, too. Get your tickets here.
December 9, 6:30pm
A Jane Austen Birthday Celebration – make a wish, eat a cupcake, sip champagne, and play a parlor game Regency style. $8 covers the party. Make it an evening and see the show that night, too.
December 16, 6:30pm