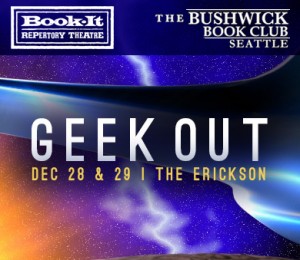 Geek Out
Book-It and The Bushwick Book Club Seattle present a celebration of sci-fi, new media, and the graphic novel.
Adapted by Samara Lerman and David Goldstein
Directed by Andy Jensen
December 28 & 29, 2012
Where: The Erickson Theatre
Geek out with Book-It and The Bushwick Book Club Seattle! At long last Book-It delves into the world of science fiction, new media, comic books and graphic novels in Volume III of Circumbendibus.
Join us in an unabashed celebration of all things Geek as we bring entirely new worlds and literary media to life onstage, all in collaboration with the wildly popular literature-based music group: The Bushwick Book Club Seattle.
Featuring new adaptations of:
Black Box by Jennifer Egan
Instructions by Neil Gaiman
The Lifecycle of Software Objects by Ted Chiang
The Unwritten by Mike Carey
"THE BUSHWICK BOOK CLUB"


"Literature, meet Theatre… and Music!" Book-It is excited to be teaming up with The Bushwick Book Club Seattle to bring you the third installment of Circumbendibus.
About The Bushwick Book Club Seattle:
[quote]The Bushwick Book Club Seattle is not your run-of-the-mill book club. Much like any, we act upon the urge to read and to have discussions about what we read. But we found that this was not enough for us. When we read books, we also want to write songs about them. And when we write songs, we like to perform them for an audience.[/quote]
Learn more about the group by visiting their website, following them on Facebook, or by checking out their music on Bandcamp.
CAST
Patrick Allcorn
Nik Doner
K. Brian Neel
Opal Peachy
Alyson Scadron-Branner
Allison Strickland
PARTNERS
Circumbendibus is made possible with generous support from