Howl's Moving Castle, a New Musical (2017)
Based on an original book by Diana Wynne Jones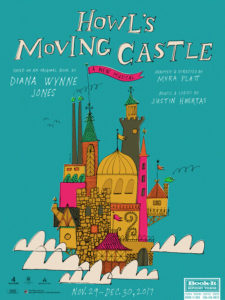 Adapted and directed by Myra Platt
Music and lyrics by Justin Huertas
Starring Sara Porkalob
Pay-What-You-Will: Nov 29 (CANCELLED)
Preview: Nov 30, Dec 1
Opening Night: Saturday, Dec 2, 2017
November 29–December 30, 2017
The show runs approximately 2 hours and 25 minutes plus one intermission.
Magic and adventure abound in this phenomenon that has thrilled audiences around the world. When Sophie (Sara Porkalob) unwittingly attracts the ire of the Witch of the Waste, she finds herself transformed into an old woman. To break the enchantment, she must strike a bargain with a fire demon and seek the help of the frightening sorcerer Howl. The award-winning 1986 novel inspires each of us to trust in our own powers of transformation.
SEASON SUPPORT PROVIDED BY 4Culture, ArtsFund, The Sheri & Les Biller Family Foundation, KUOW 94.9, Office of Arts & Culture/Seattle, Sage Foundation
*Member of Actors' Equity Association, the Union of Professional Actors and Stage Managers in the United States
Beyond-the-Book Events
Conversations that both illuminate Book-It's production of Howl's Moving Castle, a New Musical and act as catalysts for deeper exploration of the book's themes.
Front Row Center with KUOW's Marcie Sillman
Join KUOW's Marcie Sillman for a conversation with Myra Platt (adapter/director) and Justin Huertas (music/lyrics) after Howl's Moving Castle.
Sunday, December 3 following the 2pm matinée at The Center Theatre at the Armory (305 Harrison St.)
FREE
CAST
| | |
| --- | --- |
| Randall Scott Carpenter | Michael/Ensemble |
| John Coons | Scarecrow/Ensemble |
| Michael Feldman* | Howl |
| Rachel Guyer-Mafune | Martha Hatter/Ensemble |
| Kate Jaeger* | Witch of the Waste/Mrs. Fairfax |
| Katherine Jett | Lily Angorian/Ensemble |
| Lamar Legend | Calcifer/Ensemble |
| Opal Peachey | Mrs. Fanny Hatter/Ensemble |
| Sara Porkalob* | Sophie Hatter |
| Tyler Rogers | Percival/Ensemble |
| Sarah Russell | Lettie Hatter/Ensemble |
PRODUCTION AND ARTISTIC TEAM
| | |
| --- | --- |
| Myra Platt | Adapter/Director |
| Justin Huertas | Composer/Lyricist |
| Adam Quillian | Music Director/Score Preparation/Conductor/Keyboard |
| Steven Tran | Associate Music Director/Score Preparation |
| Rheanna Atendido | Score Preparation |
| Logan Skirm | Score Preparation |
| Olivia D Hamilton | Guitar/Bass |
| Joshua Koller | Cello |
| Matthew Tevenan | Cello |
| Table Flip | Choreography |
| Julia Hayes Welch | Scenic Designer |
| Margaret Toomey | Costume Designer |
| Andrew D. Smith | Lighting Designer |
| Erin Bednarz | Sound Designer |
| Emily Sershon | Properties Designer |
| Andrea Kovich | Dramaturg |
| Katya Landau | Dialect Coach |
| Emma Pihl | Stage Manager |
| Shane Unger | Assistant Stage Manager |
| Sam Harrison | Wigs and Crafts Designer |
| Corinne Magin | Assistant Costume Designer |
| Dan Schuy | Production Manager |
| Benjamin Radin | Technical Director |
| Carmen Rodriguez | Scenic Charge Artist |
| AJ Hienen | Production Assistant |
| Levi Plumb | Master Electrician/Board Operator |
| Jessica Jones | Sound Engineer/Board Operator |
| Anna Bowen | Dresser/Wardrobe |
*Member of Actors' Equity Association, the Union of Professional Actors and Stage Managers in the United States