I Am of Ireland: A Celebration in Story, Song, and Dance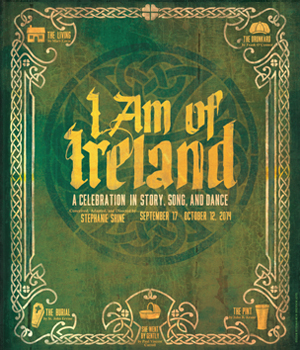 From the repertory: A reprise of one of Book-It's first runaway hits, originally produced in 1994
September 17 – October 12, 2014
Conceived, adapted, and directed by Stephanie Shine
Pay What You Will Previews: Sep 17, 18
Preview: Sep 19
Opening Night: Saturday, Sep 20
Running time: 2 hours, 15 minutes including intermission
At once heart-breaking, side-splitting, and life-affirming, Book-It is proud to revive this Irish culture favorite. Through an evening of traditional song, dance, and short stories—including Frank O'Connor's The Drunkard and Mary Lavin's The Living—this Emerald Isle gem is a testament to the human spirit, and will have you hoisting a pint to all things Irish! Original adapter/director Stephanie Shine returns to Seattle to helm the production.
The Stories
The Stories

The Burial, by St. John Ervine
As John Mawhinney, James O'Hara, and John McClurg wait for a funeral procession to begin, they share their condolences for the girl who died, and discuss the pressing matter of a heifer for sale.
---

The Drunkard, by Frank O'Connor
Father's headed to another funeral and that means drink. Larry's in charge of keeping his father in line, but how can he keep Father from his pint? Maybe if he takes a sip himself…
---

She Went by Gently, by Paul Vincent Carroll
A knock in the middle of the night wakes midwife Maura and her son. They set off for an early morning birth complete with goats and tears.
---

The Living, by Mary Lavin
Mickser has seen many corpses, but Dougald's seen none. The two boys set off to remedy the problem on an adventure that explores the living and the dead.
---

The Pint, by John B. Keane
A publican demonstrates how to best pour—and enjoy—the perfect pint.
Cast
Brian Gunter*
Suzy Hunt*
Edd Key*
David Anthony Lewis*
Joey Shaw
Allison Standley
Kayla Walker
*AEA Member
Artistic Team
Will Abrahamse, Scenic Designer
Doris Black, Costume Designer
David Baldwin, Lighting Designer
Kathleen Le Coze, Properties Master
Edd Key, Music Director
Lindsay Carpenter, Dramaturg
Gin Hammond, Dialect Coach
Jane Jones, Choreographer
Miranda C. Pratt*, Stage Manager
Emma Pihl, Assistant Stage Manager
PRESS
I Am of Ireland
Bríd Nowlan Blog "Jottings", 9/22/14
Book-It turns 25 with 'I Am of Ireland'
Seattle Times, 9/24/14
Short Stories Long on Talent at Book-It Season Open
Mode is Fashion, 9/24/14
I Am of Ireland
NW Adventures, 9/25/14
Book-It's I AM OF IRELAND Shares a Bit of Irish Heart
Broadway World, 9/25/14
Director Stephanie Shine on 'I Am of Ireland'
Encore Arts, 10/2/14