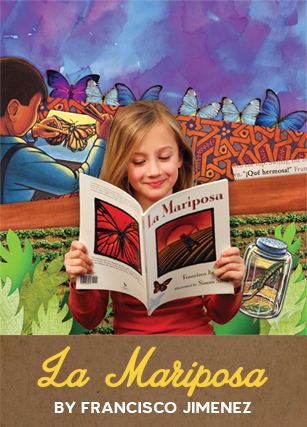 GRADES K – 6
TOURS Sep – Dec, 2014
THEMES creativity, empathy, immigrant experiences, isolation, transformation
EVENTS Citizenship Day, Hispanic Heritage Month, International Literacy Month
Francisco, the son of Mexican migrant farmers, is starting first grade at a new school in his new home—the United States. He longs to be a part of the world around him, but struggles with an unfamiliar language and making new friends. He finds comfort in the slow-moving caterpillar that lives in a jar by his desk. Francisco knows the caterpillar will become a butterfly, but how? Gradually, the metamorphosis takes place—the caterpillar and Francisco are beautifully transformed. This autobiographical story illustrates the challenges of new beginnings.
Performed bilingually in Spanish and English.
PICTURED: Maddie Kolb (9); Photo by Chris Bennion