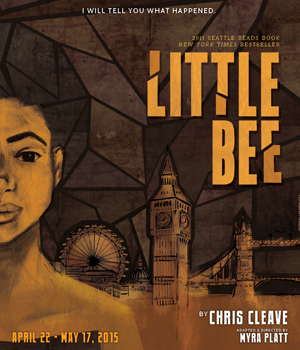 Runaway bestseller and 2011 Seattle Reads Book
April 22 – May 17, 2015
by Chris Cleave
Adapted and directed by Myra Platt
Pay What You Will Previews: Apr 22, 23
Preview: Apr 24
Opening Night: Saturday, Apr 25
Approx. run time: 2 hrs, 30 min, including intermission
Contains mature subject matter; recommended for ages 12 and older.
Chris Cleave's 2008 bestseller is an international political thriller that brings into focus the human side of refugees and immigration. We meet Sarah, a middle-class Englishwoman, and Nigerian immigrant Little Bee whose lives become entwined following a fateful encounter on a beach in Nigeria. Sacrifice, civility, ethical choices, and survival converge as details of all that has brought them together unfold.
---
Beyond the Book
Join Book-It as we discuss issues of immigration and asylum-seeking and how they resonate with us in Seattle. Admission is free and open to the public. Discussions will be held in the Center House Theatre lobby.
---
Upcoming Events
International Rescue Committee
April 29, 6:30PM
Hear from Anya Gedrath Smith from the International Rescue Committee, which provides resources to refugees.
Northwest Immigrant Rights Project
May 3, 4:30PM
Learn more about the important legal work being done by the Northwest Immigrant Rights Project.
Refugee Women's Alliance
May 6, 6:30PM
Listen to a representative from the Refugee Women's Alliance speak about the work they do with immigrant women in Washington.
Northwest Immigrant Rights Project
May 10, 4:30PM
Maggie Cheng from the Northwest Immigrant Rights Project will speak about her legal work with asylum-seekers.
Speakers subject to change.
---
Further Reading
Check out Seattle Reads 2010 Reading Group Toolbox for their interview with Chris Cleave, discussion questions, recommended reading and more.
Cast
Sydney Andrews
Elena Flory-Barnes
Jonah Kowal
Claudine Mboligikpelani Nako
Meiko Parton
Michael Patten*
Eric Riedmann*
Jason Sanford
Zenaida Smith
Kaila Towers
Kourtney Connor
Artistic Team
Will Abrahamse, Scenic Designer
Christine Meyers, Costume Designer
Andrew D. Smith, Lighting Designer
Evan Mosher, Sound Designer
Harry Todd Jamieson, Assistant Sound Designer
Joey Sills, Properties Master
Anthea Carns, Dramaturg
Gin Hammond, Dialect Coach
Tom Dewey, Fight Choreographer
William E. Cruttenden III*, Stage Manager
Xandria Nirvana Barber, Assistant Stage Manager[/two-fourth]
PRESS
Little Bee' to land on stage at Book-It Repertory Theatre
Seattle Times, 4/23/15
Little Bee Has a Sting
Drama in the Hood, 4/26/15
Visceral and Hard Hitting Journey in Book-It's LITTLE BEE
Broadway World, 4/27/15
'Little Bee': Book-It adaptation shines light on the plight of refugees
Seattle Times, 4/28/15
Seattle's Book-It Repertory Theatre Premiere of Chris Cleave's Novel 'Little Bee'
Huffington Post, 4/28/15
When Africa's Problems Land on Your Doorstep
Seattle Weekly, 4/28/15
Artists in the Audience: 'Little Bee'
Encore Arts Seattle, 4/29/15
Little Bee presented by Book-It Repertory Theatre
Seattle Actor, 4/29/15
"Little Bee" at Book-It
Arts Stage Seattle Rage, 4/30/15
Book-It's Little Bee: All About the Journey
Heed the Hedonist, 5/5/15
"Little Bee" stings with real life drama
Miryam's Theater Musings, 5/7/15
The Weekend List: "Little Bee" at Book-It
Crosscut, 5/14/15[/thb_tab]