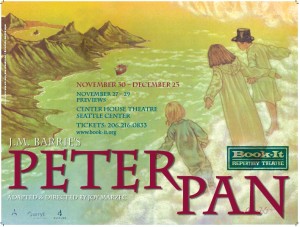 November 27 – December 23, 2007
by J.M. Barrie
Adapted and Directed by Joy Marzec
Utilizing Barrie's beautiful, but little known narrative prose, Book-It is excited to bring a fresh look at this beloved children's myth. Join mischievous Peter Pan, the young boy who refuses to grow up, his hot-tempered pixie pal, Tinker Bell, and the Darling children as they soar to the mysterious Neverland where childhood lasts forever. Mesmerizing and adventurous, Peter Pan will take you on an unforgettable flight to new galaxies, lush jungles, and oceans replete with fearsome pirates and fearless fairies. Come, bring your friends and family, and experience the real Peter Pan!
Cast
Eric Ray Anderson*
Greta Bloor
Andrew DeRycke*
Bailey Ellis
Josh Froebe
Langston E. Guettinger
James Grixoni-Lewis
Bill Johns
Cornelia Moore
Tallis Moore
Chiara B. Motley
Charles Norris
Marissa Price
Carter Rodriguez
Rhonda J. Soikowski*
Olivia Spokoiny
*AEA Member
Artistic Team
Judith Cullen, Scenic Designer
Christine Meyers, Costume Designer
Lynne Ellis, Lighting Designer
Jason Gorgen, Sound Designer
Mitch Marzec, Composer
Brady Brophy-Hilton, Assistant Director & Dramaturg
Lindsey Callihan, Properties Designer
Gordon Carpenter, Fight Choreographer
Gin Hammond, Dialect Coach
Joseph Lambert, Set Builder
Ilvs Strauss, Master Electrician & Sound Board Operator
Larry Rodriguez, Technical Dir. & Production Mgr.
Devorah Spadone*, Stage Manager
Loren Kite, Assistant Stage Manager[/two-fourth][/thb_tab]
PRESS
Great Hook, but "Peter Pan" needs some magic
Seattle Times, 12/11/07