The Picture of Dorian Gray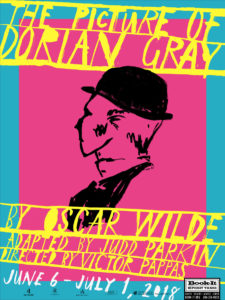 by Oscar Wilde
Adapted by Judd Parkin
Directed by Victor Pappas
Pay-What-You-Will: June 6
Preview: June 7, 8
Opening Night: Saturday, June 9
June 6–July 1, 2018
The show runs approximately 2 hours plus an intermission.
When the irresistible Dorian Gray sees the magnificent portrait his friend Basil Hallward has painted of him, he laments that he will grow old while the picture will always remain young. Dorian strikes a Faustian bargain and is granted eternal youth while the portrait ages and records his sins. As his pursuit of pleasure devolves into a life of sin and corruption, Dorian's bargain brings devastating consequences. Oscar Wilde's only novel scandalized Victorian England with its open examination of sex, drugs, and even murder, and its ultimate declaration that hiding from one's true self is the real sin.[/thb_tab]
Beyond-the-Book Events
Conversations that both illuminate Book-It's production and act as catalysts for deeper exploration of the book's themes.
Post-Show Discussions
Sunday, June 17 and Sunday, June 24
Join The Picture of Dorian Gray dramaturg Ian Stewart in the lobby for a post-show discussion about Oscar Wilde's infamous novel. Free and open to the public.
The Picture of Dorian Gray Book Discussion
Join Book-It and Queen Anne Book Company patrons for a discussion about The Picture of Dorian Gray Wednesday, May 16, 6 – 7pm, at Queen Anne Books, 1811 Queen Anne Avenue North. Free and open to the public.