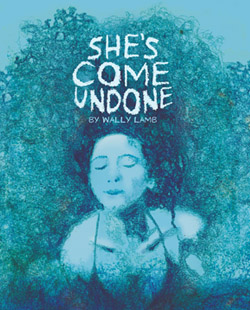 September 18 – October 13, 2013
by Wally Lamb
Adapted and Directed by Kelly Kitchens
Pay What You Will Previews: Sep 18, 19
Preview: Sep 20
Opening Night: Saturday, Sep 21
Now available for licensing! Please contact Josh Aaseng, Literary Manager, at Licensing@book-it.org[/email] for availability and pricing.
This deeply affecting, often hilarious novel centers on the extraordinary wisecracking, ever-vulnerable Dolores Price, whose life we follow through her fortieth year. Despite family dysfunction, bitter betrayal, anger, and overwhelming despair, she ultimately forges a new beginning and finds the courage to love again.
EVENTS
WEDNESDAY, SEP 25 6:30pm | Could Poetry Save Dolores Price? A Pre-Show Talk with Richard Gold from Pongo Teen Writing A 2013 Mayor's Arts Award-winner, Gold works with disadvantaged youth in the justice system and psychiatric facilities to help them find their voices through poetry. At this event, we'll "learn and do."
SUNDAY, SEP 29 | Post-Show Discussion with the artists and special guests Emily Gassert (clinical therapist with King County Sexual Assault Resource Center–KCSARC) and Carol Lundemo (OCD Seattle education outreach and specialized therapist.)
THURSDAY, OCT 3 6:30 – 7:10pm | The Bushwick Book Club Seattle presents original music inspired by She's Come Undone. The folks at Bushwick will perform their own songs based on the novel in the lobby of the Center Theatre from 6:30pm – 7:10 before the show.
SUNDAY, OCT 6 | Post-Show Discussion with the artists and special guests DeAnn Yamamoto (Deputy Executive Director of KCSARC) and Carol Lundemo (OCD Seattle education outreach and specialized therapist.)
Cast
John Bianchi
Susanna Burney
Trevor Cushman
Rachel Fitzgerald
David Anthony Lewis*
Julie Jamieson
Jocelyn Maher
Cobey Mandarino*
Trevor Y. Marston
Andre Nelson
Allie Pratt
Betsy Schwartz*
Artistic Team
Andrea Bryn Bush, Scenic Designer
Chelsea Cook, Costume Designer
Robert J. Aguilar, Lighting Designer
Catherine Cornell, Properties Master
Dustin Morache, Sound Designer
Tom Dewey, Fight Choreographer
Victoria Thompson, Stage Manager
Miranda C. Pratt*, Assistant Stage Manager
PRESS
8 Theater Picks for Fall
Seattle Times, 9/11/13
She's Come Undone: From Oprah to Book-It
Seattle Times, 9/20/13
She's Come Undone by Wally Lamb
Drama in the Hood, 9/23/13
"She's Come Undone" offered by Book-It Repertory Theatre
Arts Stage Seattle Rage, 9/23/13
REVIEW | 'She's Come Undone' at Book-It
Queen Anne News, 9/24/13
Opening Nights: She's Come Undone
Seattle Weekly, 9/24/13
She's Come Undone – Book-It Preview
NW Adventures, 9/24/13
Lead actor ably carries Dolores' burdens in Book-It's 'Undone'
Seattle Times, 9/26/13
She's Come Undone: A Play Worth the Unraveling
Heed the Hedonist, 9/26/13
She's Come Undone
Seattle Actor, 9/26/13
To Hell and back – She's Come Undone is a long but impressive – even essential – Book-It show
Seattle Gay News, 9/27/13
PROGRAM