The Amazing Adventures of Kavalier & Clay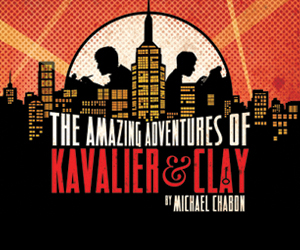 June 8 – July 13, 2014
by Michael Chabon
Abridged stage version by Jeff Schwager
Directed by Myra Platt
Preview: Jun 10
Opening Night: Wednesday, Jun 11
]In 1939 Joe Kavalier smuggles himself, Houdini-style, out of Nazi-occupied Prague and reappears in New York to live with his cousin, Sammy Clay. It's the golden age of comic books and the ambitious pair—the storyteller and the artist—invent the perfect superhero for America on the brink of the Second World War. Chabon's tale of escape, transformation, magic, and moxie is a modern-day epic­.
Book-It presented this novel as a theatrical event complete with dinner break.
For all the exciting details, please refer to Your Amazing Adventure Guide!
AMAZING ADVENTURE GUIDE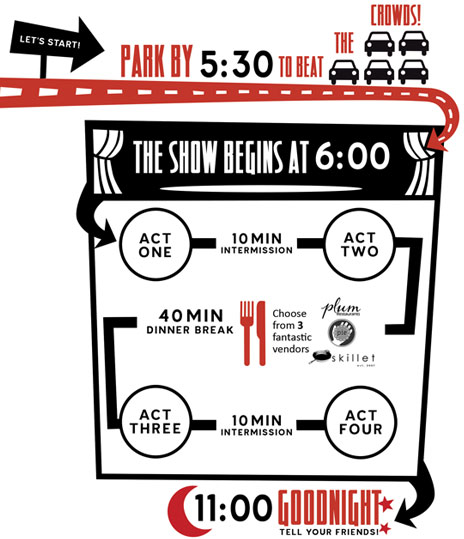 ---

6:00-11:00PM | About 5 hours
To honor the scope of the novel (it's 636 pages long!), we've bumped our starting time up to 6:00PM and created an evening-length event–about 5 hours in total–that includes as many twists, turns, and tumbles as Chabon's epic story.


Two 10-min intermissions + 40-min dinner break at aprox. 8:15pm (4:15pm for the matinees)
In addition to two 10-minute intermissions, there will be a 40-minute dinner break at the end of Act II. We'll lead you to the Armory's Food Court, where you'll have your choice of dinner options at our partner restaurants: Skillet Counter, Pie, and Blue Water Taco Grill.
We've been working with our partners to make everything quick, easy, and affordable for you. Plan to spend around $10 per person. Dine in our designated seating area and we'll let you know when it's time to return to the theatre. Prefer to make your own dinner plans? That's fine, but please return within 40 minutes. Remember: there is no late seating at Book-It.


The Center Theatre | 305 Harrision St
The performance will take place in our home space: The Center Theatre in the Armory. Our partner restaurants are located upstairs from the theatre, in the Armory's Food Court.


Plan to park by 5:30PM
Beat the crowds and park by 5:30PM. Getting to the theatre.
Cast
Richard Arum*
Frank Boyd*
Jaryl Draper
Nick Edwards
David Goldstein
Robert Hinds
Lauryn Rilla Hochberg†
Harry Todd Jamieson
Bill Johns
Nate Kelderman
Amy Korver†
Jay Myers
Michael Patten*
Opal Peachey
Ben Phillips
Noah J. Rose
Carol Silverstein
Gary Taylor*
*AEA Member
]Artistic Team
Christopher Mumaw, Scenic Designer
Kent Cubbage, Lighting Designer
Pete Rush, Costume Designer
Matt Starritt, Sound Designer
Kathleen Le Coze, Properties Master
Michael Owcharuk, Music Director/Composer
Beth Fleenor, Musician
Steffan Soule, Master Magician
Tom Dewey, Fight Choreographer
Marianna de Fazio, Dialect Coach
Josh Aaseng, Associate Director
Katherine Stewart, Assistant Director
Lenore Bensinger, Dramaturg
Victoria Thompson, Stage Manager
Miranda C. Pratt*, Assistant Stage Manager[/two-fourth][/thb_tab]
PRESS
Book-It Debuts 
'Kavalier & Clay'
City Arts Magazine, 5/28/14
6 new plays in Seattle via ACT, Sandbox Collective and Book-It
Seattle Times, 5/30/14
Myra Platt and Nancy Guppy on Seattle Channel's Art Zone
Seattle Channel's Art Zone, 5/30/14
Chabon's Kavalier & Clay Escape Pages for a New Horizon: The Theatre
Jewish Sound, 6/10/14
The Amazing Adventures of Kavalier & Clay Produced by Book-It Repertory Theatre
Arts Stage Seattle Rage, 6/13/14
Kavalier & Clay: A Great Escapade
Drama in the Hood, 6/15/14
Opening Nights: The Amazing Adventures of Kavalier & Clay
Seattle Weekly, 6/17/14
A Magical Rendering of 'Kavalier & Clay' at Book-It
Seattle Times, 6/19/14
A Marathon of Adventure from Book-It
Seattle PI, 6/19/14
Chicago picks up the slack for Broadway's summer lull
The Stage, 6/20/14
A Magic, Comic Adventure Worth Saving Your Day
NW Book Lovers, 6/20/14
5 Plays You Need to See in Seattle
Seattle Times, 6/20/14
Chabon's novel inspires night of Book-It theater and dinner
Examiner, 6/21/14
How do you cram 639 pages of 'Kavalier and Clay' on-stage?
Crosscut, 6/24/14
The Amazing Adventures of Kavalier & Clay Performed as a Five-Hour Play
The Stranger, 6/25/14
The Amazing Production of Kavalier & Clay
The Millions, 6/28/14
"Kav and Clay" is a special event! It's a five-hour event and that shouldn't stop you for a minute!
Miryam Gordon, 7/02/14
The Art of Adapting Novels for the Stage
Crosscut, 7/11/14