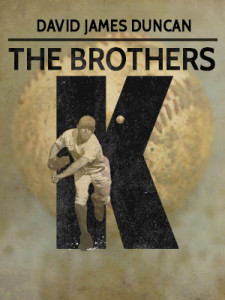 by David James Duncan
Adapted and directed by Myra Platt
May 3 – June 26
Presented in two, full-length parts
Part One: Strike Zones now playing
run time: 3 hours, including two short intermissions
Part Two: The Left Stuff now playing
run time: 2 hrs, 45 mins, including two short intermissions
"This will be one of those shows that everyone is talking about for years to come and if you miss out, well, you were warned." — BroadwayWorld.com
Double Header days available
(see calendar for details)
New York Times Notable Book (1992)
American Library Association Best Books Award
OVERVIEW
From the celebrated author of The River Why (Book-It, 2010), comes an uplifting tale that spans the middle decades of the 20th century. Through the eyes of the brothers of the title, Duncan examines the lives of the Chance family in Camas, Washington through the interplay of faith and spirituality, war and politics, family, baseball, and love. Book-It is pleased to present The Brothers K in a two-part, epic telling.
"'The Brothers K' Is The Great American Novel You Haven't Read Yet. Love, war, and baseball." —buzzfeed.com
Cast
Kai Borch
Marissa Castillo
Trevor Cushman
Solomon Davis
Sunam Ellis
Spencer Hamp
Laura Hanson
Gavin Hoffman*
David Hsieh
Suzy Hunt*
Agastya Kohli
Rebecca Love☨
Nina Makino
Cody Moffitt☨
Aaron T Moore*
Julian Mudge-Burns
Christopher Morson
Annika Nori☨
Zoe Papadakis
Riley Shanahan
Alex Silva
Caden Tate
Alexandra Tavares*
Shaudi Bianca Vahdat
Evan Whitfield
Bob Williams
*Denotes AEA Member
☨Denotes Intern
PRODUCTION & ARTISTIC TEAM
Stage Manager Jeremiah L. Givers*
Assistant Stage Manager Anthea Carns
Production Assistant Shawna Grajek
Youth Supervisor Amy Jurkiewicz
 Scenic Designer Christopher Mumaw
Lighting Designer Marnie Cumings
Costume Designer Chelsea Cook
Sound Designer Matt Starritt
Assistant Director/Dramaturg Laura Owens
Assistant Director/Dramaturg Ian Stewart
Fight Choreographer Tom Dewey
Baseball Coach Ray Gonzalez
"PRESS
"Love, War and Baseball" What's not to like! –KCLS Blog
Family, Religion and Baseball in Book-It's THE BROTHERS K, PART ONE –BroadwayWorld.com
Book-It's Beautifully Touching THE BROTHERS K, PART TWO is a Must See –BroadwayWorld.com
The Brothers K (Part One) at Book-It –Drama in the Hood
The Brothers K (Part Two) at Book-It –Drama in the Hood
Hits and errors in Book-It's well-acted 'Brothers K' –Misha Berson, The Seattle Times
Run time
Part I runs about 3 hours including two short intermissions; Part II runs 2 hours, 45 mins including two short intermissions.
Make it a Double Header! See the full show in one day – several options are available from May 21 through June 26.
What Will a Double Header Day Look Like?
2:00pm, Part I begins
5pm, Part I ends
Dine, Wander, Relax, Ponder
7:30pm, Part II begins
10:15, Part II ends
What To Do During the Break
There are several restaurants around the Seattle Center, grab a drink and dinner before Part II begins. There are Book-It VIP cards at the Box Office that offer discounts to several nearby businesses.
At the EMP Museum,  show your Book-It ticket stub and get $5 off your EMP admission price. It's a great place to spend some time between shows.
Where ever your break between shows may take you, don't wander too far! Part II begins promptly at 7:30