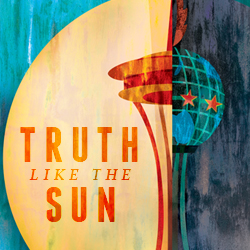 April 23 – May 18, 2014
by Jim Lynch
Conceived by Jane Jones & Kevin McKeon
Adapted by Kevin McKeon | Directed by Jane Jones
Pay What You Will Preview: Apr 23
Preview: Apr 25
Opening Night: Saturday, Apr 26
Book-It is thrilled to produce the latest of local author Jim Lynch's three novels. Roger Morgan was a smooth-talking young promoter who built Seattle's most famous icon for the 1962 fair. Thirty-nine years later in the shadow of his Space Needle, the Seattle raconteur is a mayoral candidate dogged by a determined young reporter looking for long-buried dirt. "Enveloping and propulsive," Lynch's latest novel aims a light at the extraordinary events that put Seattle on the map.
Cast
Solomon Davis
Chris Ensweiler*
Emily Fortuna
Cynthia Geary
Brian Gunter*
Laura Hanson
Joe Ivy
Chad Kelderman*
Jonah Kowal
Kevin McKeon
Nikki Mejia
Anthony Rosenthal
Luke Sayer
Richard Sloniker
Jennifer Lee Taylor*
Leslie Wisdom
*AEA Member
Artistic Team
Catherine Cornell, Scenic Designer
Marnie Cummings, Lighting Designer
Pete Rush, Costume Designer
Nathan Wade, Sound Designer
Kathleen Le Coze, Properties Master
Susannah Butler*, Stage Manager
Jeremiah Givers, Assistant Stage Manager
PRESS
Jim Lynch's 'Truth Like the Sun' alights at Book-It Rep
Seattle Times, 4/25/14
Seattle Takes the Spotlight in Book-It's Truth Like the Sun
Drama in the Hood, 4/29/14
Theater review: 'Truth Like the Sun'
UW Daily, 4/29/14
'Truth Like the Sun' examines bright 1962 dreams
Seattle Times, 5/1/14
Seattle's amazing – ambiguous – history in intricate detail, now at Book-It
Miryam Gordon, 5/1/14
Truth Like the Sun at Book-It
Arts Stage – Seattle Rage, 5/2/14
Truth Like the Sun
Seattle Actor, 5/3/14
Six Shows Left for Book-Its' Truth Like the Sun
Heed the Hedonist, 5/13/14
EVENTS
Director Jane Jones describes Truth like the Sun as a "love letter to Seattle," and we definitely agree with her. So what better way to celebrate our wonderful city than by highlighting its history and our favorite local businesses?
Join us for one of our exciting pre-show events, and learn something new about our hometown:
[quote]April 30: Seattle Center Past, Present, and Future
Join Tracy Robinson, executive director of the Seattle Center Foundation, and a panel of experts as they discuss the impact Seattle Center had on the city when it was built, and how that impact will continue in years to come.
May 2: Tasting with Schilling Cider
Come discover the latest craze to hit Seattle's top bars: craft cider. Schilling Cider will be on hand to teach you everything you need to know, and why cider may just be your new favorite drink.
May 9: Tasting with Hilliard's Beer
Hilliard's has only been around for a few years, but they're already one of the hottest beers in Seattle's famous craft scene. Come find out what sets them apart. (Hint: It's not their IPA; they've vowed never to brew one!)
May 16: Tasting with Bookwalter Winery
Believe it or not, we found a winery that's as literature-crazy as we are! Bookwalter will be sampling some of their finest literary vintages, including Subplot, Foreshadow, and Suspense.