Saturday, April 22, 2023, 6:00pm
"No one lights a lamp in order to hide it behind the door: the purpose of light is to create more light, to open people's eyes, to reveal the marvels around."
– Paulo Coelho) (The Witch of Portobello

Book-It's Paper Lantern Ball will be a joyful and memorable evening celebrating the light that a good story can cast on our lives. Join us as we dance to the music of the ABBAgraphs – Seattle's most in-demand ABBA cover band! – and enjoy hors d'oeuvres, games, specialty cocktails, an open bar, a catered sit-down feast, and a spectacular live auction as we raise funds for Book-It's artistic and educational programs.
When: Saturday, April 22nd
Where: Georgetown Ballroom (5623 Airport Way S)
Schedule:
6:00 pm – Doors open and the fun begins
7:15 pm – Dinner and program begin
9:15 pm – Dancing with the AbbaGraphs
THIS EVENT IS SOLD OUT
However, if you wish to donate to support this event and Book-It's mainstage and arts education programs, please use this button: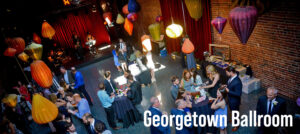 The Paper Lantern Ball Chairs
Stuart Frank
Marty Hoiness

The Paper Lantern Ball Auctioneer
David Silverman
The Paper Lantern Ball Committee
Katie Bombico
Nadia Caldwell
Jeannine Clarke
Becky Monk
Christopher Mumaw
Artist credit: Original hand-cut papercut by Sara McMahon. IG: @saramacpapercuts  www.saradelighted.com
Becoming a Gala sponsor is a great way to support Book-It's mission of "transforming great literature into great theatre through simple and sensitive production and inspiring its audiences to read" while receiving recognition for your investment in our community. For more information, please contact Lisa Sanman, Director of Development at lisas@book-it.org
Sponsorship Levels and Benefits
Cover Partnership: $5,000
Chapter Partnership:  $2,500
Page Partnership: $1,000
Word Partnership: $500

The Georgetown Ballroom is located at 5623 Airport Way S in Seattle.
It is located at the top-left corner of the map below. The blue rectangles on the map below show parking lots.
More info at georgetownballroom.com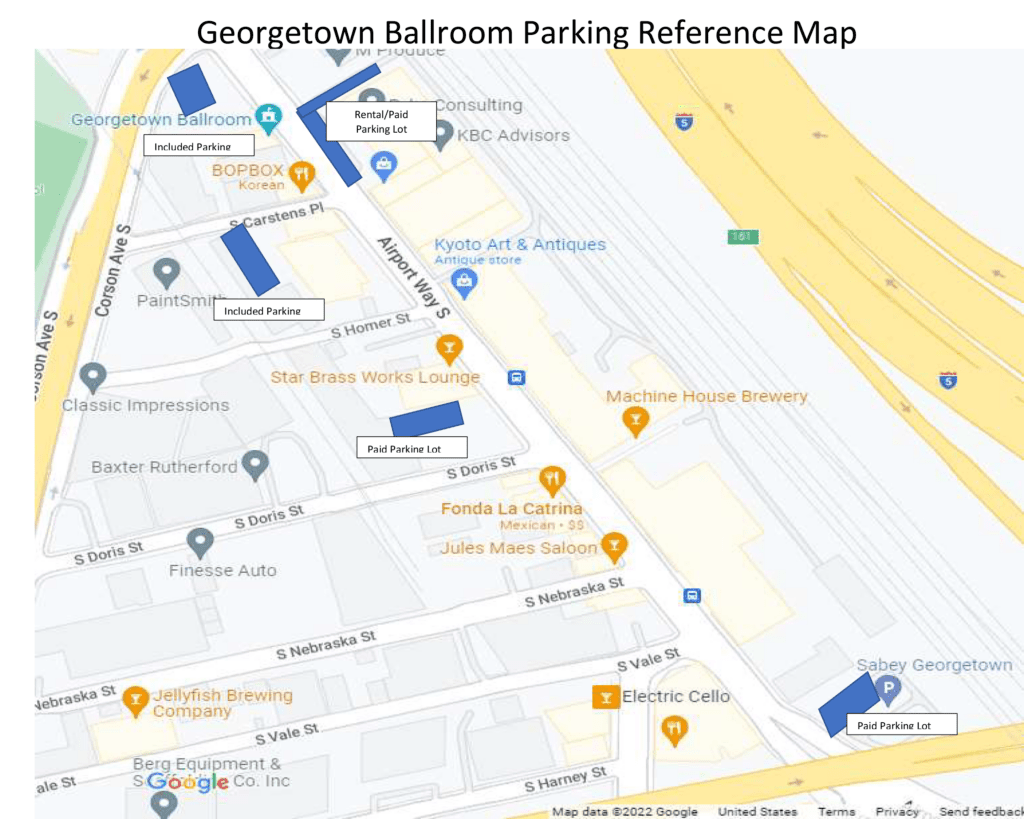 Our thanks to those who have donated their personal and organizational time, talent, energy, and resources in support of this event!
The Field Trip Society
Margaret Kineke & Dennis West
Holly & Bill Marklyn
Mary Metastasio
Saramac Papercuts
Sage Color
Sal Y Limon
Dan Schuy
Seattle Kraken
Seattle Mariners
Seattle Storm
Preview these 12 wonderful and amazing auction packages that will be available on Saturday night!
1. Cooking Class with Sara Dickerman at Kitchen & Market in Pike Place Market
FMV: $1,390
Thanks to: Stephanie King, owner Kitchen & Market, and Sara Dickerman
Add some new recipe ideas to your repertoire this fall with chef and food writer Sara Dickerman. A former chef in the kitchens of Chez Panisse, Le Pichet and Vios, Sara is an accomplished food writer, with three books to her name and is the co-author with Renee Erickson of Getaway: Food & Drink to Transport You. The originator and writer of the Bon Appetit magazine's annual New Year's Cleanse, Sara followed up that feature's success with her book The Food Lover's Cleanse. Followed by Secrets of Great Second Meals. Watch for Sara's next book coming out in early 2024.
Join Sara and 7 of your closest friends for an evening of fall food, while sipping and shopping your way through the most gorgeous boutique neighborhood grocery store in town, Kitchen & Market. Kitchen & Market will enlist one of their favorite wine vendors to provide wine while you enjoy Sara's class and you can wonder the store to get some grocery stopping done. They love to help you answer the question What's For Dinner?
Kitchen & Market is a local, small-format, neighborhood grocery store and prepared meal provider. Their three stores in Pike Place Market, Medina and Mercer Island provide simple solutions for busy families and individuals and easy, delicious, and value-oriented (generous portions) meal kits.
10% of any food you buy in the store that night will also benefit Book-It Theatre.
Restrictions:
8 people total
Mutually agreeable date in Fall 2023
2. Nights at the Paramount
FMV: $865
Thanks to: Stuart Frank & Marty Hoiness, Seattle Theatre Group
Musical theatre fans, this one's for you! Enjoy two of the most sought-after tickets in town this summer with the Seattle Men's Chorus: Performing Disney Pride concert in June and the smash-hit musical comedy Six the Musical in July! Performing Disney Pride is a celebration of LGBTQ love, life, family, and perseverance drawing inspiration from Disney classics new and old. Six the Musical, which won the 2021-2022 Tony Award for Best Original Score, is a pop concert spectacle featuring the six ex-wives of Henry VIII in a frothy, jubilant, and uplifting celebration of 21st century girl power. Book-It Repertory Theatre is not responsible for all the earworms you'll be humming off and on for the next six months.
Restrictions:
Six the Musical runs July 12 – 23, 2023. Book-It will reach out to winner to confirm date selection in early May.
Seattle Men's Chorus: Performing Disney Pride in Concert is on Friday, June 9. You must contact the Paramount directly to confirm your tickets at least 8 days before the show. Your tickets for this event will include Lounge access.
3. Seattle Sports Fan Package
FMV: $1,050
Thanks to: Margaret Kineke & Dennis West, The Seattle Storm
Watched so much Ted Lasso lately that you think you might just be into sports now? This package includes 2 seats for 6 games in the Mariners' 2023 home season. With incredible 100-level seats right behind home plate, you and a friend can spend the summer root, root, rooting for the home team! This package also includes 4 tickets to a 2023 Seattle Storm home game at the Climate Pledge Arena and an 8×10 autographed player photograph by Gabby Williams (#5).
Restrictions:
Mariners Tickets (seats 7 and 8, section 128) are for the following games:
Mariners v. Astros, May 7
Mariners v. Athletics, May 25
Mariners v. Nationals, June 28
Mariners v. Blue Jays, July 22
Mariners v. Orioles, August 13
Mariners v. Angels, September 11
Seattle Storm game date and seat locations are subject to availability
4. Artisanal Handmade Vases
FMV: $900
Thanks to: Dan Schuy
These handmade vases were fashioned by Book-It's Production Manager, Dan Schuy. The body of the larger vase is made of mesquite, bubinga, and ebony, while the diamond-shaped ring features Bolivian rosewood, ebony, and figured maple. The body of the smaller vase is made of walnut burl, and the decorative rim and ring feature spalted tamarind and ebony. Both vessels have been finished with multiple coats of antique oil, then buffed and polished with a carnauba wax topcoat. These two gorgeous, one-of-a-kind works of art would look lovely anywhere in your home, but we especially like envisioning them on a shelf in your library.
Restrictions:
Vases are decorative and were not made to hold water
5. Madonna Night
FMV: $2,480
Thanks to: The Seattle Kraken, Sal Y Limon
This summer, let your body move to the music and join Madonna live and in-person for her Celebration Tour! This package includes 4 great tickets in Section 22 of the Climate Pledge Arena, putting you front and center for a show celebrating Madonna's 40 years as a global superstar and featuring highlights from an unmatched catalog of mega-hits. This package also includes dinner for four at neighboring restaurant Sal Y Limon, home of the Ultimate Margarita. Grab your lamb plushie, your fishnet gloves, and your favorite conical bra, and get ready for the best night of your life.
Restrictions:
Show is July 23, 2023
Doors open at 7:30pm, show starts at 8:30pm
6. Queen Anne Cocktail Party with Kelly & Jeannine
FMV: $100/person
Join Book-It Interim Artistic Director Kelly Kitchens and Managing Director Jeannine Clarke for a cocktail party at the Queen Anne home of longtime Book-It supporters. Enjoy drinks, hors d'oeuvres, and a compelling conversation about the 2023-2024 season.
Restrictions:
Mutually agreeable date in the Fall
Up to 12 attendees
7. Pick Your Paradise! 7 Nights in Mexico or 5 in Hawaii
FMV: $4,550
If the endless drizzle of Seattle spring has you feeling down, there's no better pick-me-up than planning a vacation! With this package, you can pick between spending 5 nights in Waikiki on the beautiful island of Oahu or 7 nights in Mexico at the resort of your choice. Enjoy luxurious accommodations, endless pools, world-class restaurants, and activities for all ages. This highly flexible and customizable trip, organized with the help of our friends at R&R, is designed to make things as easy as possible on you – meaning that once the voucher is in your hands, you're only a few clicks away from sun on your face and sand between your toes.
WAIKIKI
5-night stay at the Outrigger Beachcomber Resort, steps away from the sand and sun of Waikiki Beach
Your choice between a king bed or two queens (accommodates 2 adults and 2 children 12 and under)
24 months to travel with no blackout dates (based on availability & subject to additional fees for select holiday weeks)
Concierge booking and service
MEXICO
7 night stay at one of several luxury beachside resorts – winner chooses between:
Cancun-Riviera Maya
Nuevo Vallarta
Puerto Vallarta
Puerto Peñasco
Acapulco
Your choice between a king bed or two queens (accommodates 2 adults and 2 children 12 and under)
24 months to travel with no blackout dates (based on availability & subject to additional fees for select holiday weeks)
Concierge booking and service
Restrictions:
All booking requests should be submitted a minimum of 45 days in advance
Package expires April 22, 2025 and must be booked before then
Holiday fees will apply during travel weeks within seven days of a holiday
Package is valid for two adults and two children ages twelve and under – additional charges will apply for additional guests exceeding the limit
One and two-bedroom upgrade options are available at the time of booking at a discounted rate and are subject to availability
Package must be used within one stay; there are no refunds for nights that go unused
Fees may apply if package is transferred
Hotel/resort taxes and fees, meals, room incidentals and airfare are not included and are the responsibility of the winner
Estimated room tax is approximately $11/day per room
Mexican resort options Nuevo Vallarta and Cancun-Riviera Maya will include one-way transportation services from the arriving airport to the resort
8. Set Sail! Catered Private Cruise for 8
FMV: $2,000
Thanks to: Clay Gustaves
Take a four-hour cruise on the historic Sea Fever vessel, a 51-foot custom sloop designed by Seattle Naval Architect Ben Seaborn. No sailing experience is needed – Captain Clay will share his expertise along with wine and catered refreshments.
Restrictions:
9. Mariners Owners' Suite Experience
FMV: $2,080
Thanks to: Bill & Holly Marklyn and the Seattle Mariners
You and your party (total of 4) are invited to enjoy a Mariners game from the comfort and luxury of the Owners' Suite! Your group will receive complimentary parking in the Mariners Garage and may enter the ballpark via a special Suite Level sky bridge entrance. Dinner and access to an open bar are included.
Restrictions:
Experience is for a mutually agreeable date
Must be scheduled at least 4 weeks in advance
Excludes Opening Night
Expires at the conclusion of the 2023 season
10. Portland Arts & Culture Getaway
FMV: $1,042
Thanks to: Portland Center Stage, Powell's Books, Portland Art Museum
Spend a weekend in Portland with three of your closest friends taking in the best the city has to offer! Swing by the Portland Art Museum to enjoy the oldest art museum in the Pacific Northwest (we recommend their collection of Ansel Adams' Yosemite prints), then let the sun shine in at Portland Center Stage's production of Hair, complete with VIP tickets, a backstage tour, and a pre-show cocktail hour with PCS's Managing Director, Liam Kaas-Lentz. Put the cherry on top of your weekend with a $100 voucher towards a shopping spree at Powell's City of Books, one of the country's most iconic and beloved bookstores.
Restrictions:
Hair runs September 30 – November 10, 2023
Hair vouchers will be redeemed through Book-It's Development team, and we will set up your pre-show tour and cocktail hour
Powell's gift card can be redeemed online or in-person
11. Exceptional Washington Wine
FMV: $555
Thanks to: Mary Metastasio
Enjoy a vertical of Cayuse Vineyards Syrah from the Cailloux Vineyard in Walla Walla, Washington. This package contains 3 bottles of delectable Syrah—from 2012, 2013, and 2014, respectively—known to connoisseurs for its balance, aroma, and intensity of flavor.
Wines are sold as futures to buyers on a list, and are available for pick-up or delivery about 18 months later. There's a several-year waiting period to get on this list, and it cannot be passed down to heirs. Even after getting on the list, buyers are only allocated small amounts of the wine, maybe three bottles to start. So it's also a wait to be allowed to buy more.
Restrictions:
12. Forage & Feast
FMV: $328
Thanks to: The Field Trip Society and Cambria Cox
Curious about berries, mushrooms, and the bounty (and beauty) of Washington State? Join the Field Trip Society for a foraging adventure! This package includes two spots on a Wild Edibles Hike with writer and wild food enthusiast Langdon Cook. Cook will lead a 3.5 mile hike through the forest of the Cascade foothills, discovering and sharing nature's bounty along the way. This package includes a signed copy of Cook's book, Fat of the Land, and a $100 gift card to the Seattle Farmer's Market Association so you can create a delicious and hyper-local meal featuring the very best our state has to offer.
Restrictions:
Wild Edibles Hike Voucher valid for two spots on a spring (April 28th, May 5th, May 12th, June 9th) or fall (late September – early November, dates TBD) hike in 2023 and subject to availability
Seattle Farmer's Market Association gift card valid at Ballard, Madrona, or Wallingford markets