LAST STOP ON MARKET STREET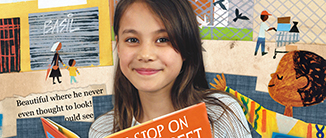 by Matt de la Peña
Pictures by Christian Robinson
GRADES: K – 6
TOURS: October – December
THEMES: friendship, family dynamics, transformation, the environment, class and status, family dynamics, observing the world around us
This show is performed in English and Spanish.
CJ doesn't understand why he and his grandmother–abuela–have to take the bus after church and not drive a car like everyone else. On the bus he asks why he doesn't have an iPod to listen to like the other passengers, With each question about what he does not have, CJ's grandmother tells him what he does have. With abuela's help. CJ is able to see the beauty in the world around him and appreciate the things he has.
---
Cast & Production Team
Last Stop on Market Street
Written by Matt De La Peña
Illustrated by Christian Robinson
Adaptor: Annie DiMartino
Director: Arlene Martinez-Vasquez
Featured Artists: Jordi Montes, Angelica Duncan, Douglas Fries, Rachael LeValley, Rico Lastrapes, Pilar Walsh, Brad Walker
Designers include; Catherine Cornell (Scene and Props), Kelsey Rogers (Costumes) and Jessica Jones (Sound).
Each performance runs between 35 and 45 minutes and can be performed in venues as small as a classroom or as large as an auditorium. In conjunction with each performance, Book-It offers workshops for children and young adults to reinforce what they have seen. These workshops allow young people to make the leap between seeing art and creating it.
To book Last Stop on Market Street for your school or community center,
call 206.428.6266 or email education@book-it.org.
Workshop Choices
Themes in Motion Students enter the world of the story using voice, body, and imagination to explore themes, characters, and events. (Grades K-2, 45 min, 35 students max)
Adapt It! Stage It! Students analyze a selection of text, adapt it in the Book-It Style, and stage it for an informal performance. (Grades 3-8, one hour, 35 students max)
Touring Story $600; after November 1, $675.
Additional Workshops Start at $150 each
additional travel fees apply
Photo of Nina, by Chris Bennion.