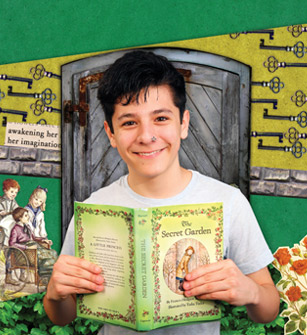 GRADES K – 8
TOURS Sep – Dec, 2015
THEMES friendship, family dynamics, transformation, the environment
EVENTS International Literacy Day, Teen Reads Day, Young Readers Day
When her parents die of cholera in India, spoiled Mary Lennox is forced to go live with her mysterious uncle at Misselthwaite Manor in Yorkshire, England. Mary is not pleased with her new situation until she discovers the key to an unkempt garden, and begins to revive it with the help of a local boy named Dickon. Aided by Dickon and the discovery of the key, Mary's stubborn nature begins to thaw with hope, warmth, and love.
---
[thb_tabs][thb_tab title="Booking"]Each performance runs between 25 and 45 minutes and can be performed in venues as small as a classroom or as large as an auditorium. In conjunction with each performance, Book-It offers workshops for children and young adults to reinforce what they have seen. These workshops allow young people to make the leap between seeing art and creating it.
To book The Secret Garden for your school or community center,
call 206.428.6266 or email [email]education@book-it.org[/email].[/thb_tab][thb_tab title="Workshop Choices"]Themes in Motion Students enter the world of the story using voice, body, and imagination to explore themes, characters, and events. (Grades K-2, 30-45 min, 35 students max)
Adapt It! Stage It! Students analyze a selection of text, adapt it in the Book-It Style, and stage it for an informal performance. (Grades 3-8, one hour, 35 students max)[/thb_tab][thb_tab title="Cost"]Touring Story $600
Additional Workshops Starting at $150 each
additional travel fees apply[/thb_tab][/thb_tabs]
PICTURED: Noah Rose (15); Photo by Chris Bennion