REMINDER: Beowulf will be performed at the Alhadeff Studio Theatre
This venue is air conditioned.
---
Access Beowulf's digital program for more information on the production and some beyond the stage insight!
---
UPDATE 2/1/2022
Our rescheduled in-person performance will be performed:
July 22 – August 7, 2022
at the Alhadeff Studio Theatre at Seattle Center
Here is a map of Seattle Center and two videos, from Mercer Street and 5th Avenue Garages, to help you find your way.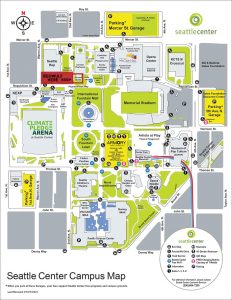 ---
UPDATE 1/27/2022
The video on demand of Beowulf will be available for viewing from February 10-27, 2022.
Tickets for the video are available now!
---

UPDATE 1/11/2022
Beowulf in-person production postponed
Dear Book-It Supporters,
Your health and safety—and that of all our artists, artisans, volunteers, and staff—is of the utmost importance to us. With that in mind, and in light of the rapidly growing case rates of Covid-19 in our region and the guidance from King County Public Health, we have made the difficult decision to postpone our January/February production of Julian Glover's Beowulf.
At this time, we are planning to present streaming performances in place of our original run, as well as moving in-person performances to the summer months. We are working out the further details, but we felt it important to let you know as soon as possible the steps we are taking. We do foresee this as a postponement and not an outright cancellation. As soon as we have new dates lined up, we will let you know!
Subscriber and single ticket buyers, we will be reaching out to you in the coming days to discuss options on rescheduling or refunding.
This is a painful decision we've had to make, and we are heartbroken to have to wait to see you all back in person again. However, we hope you understand our desire to keep you and our team safe as this current wave rolls over our region.  Your patience and support is greatly appreciated!
Please, don't hesitate to reach out with any questions you might have.
Thank you for your continued support of the arts and Book-It! We'll talk with you soon.
Sincerely,
Gus Menary                    Kayti Barnett-O'Brien
Artistic Director              Managing Director

---
"Pagan and Christian, at that cusp of time when awe takes hold after much wassailing, and metaphor and imagery is bold, Beowulf serves to strengthen sinews and give example of good deeds, to praise and raise a glass or two to heroes and their mythologized prowess." –British Theatre Guide
---
Hear! Listen! Hwaet!
As we gather together in the dark to hear a tale of long, long ago, so too did the thegns and folk gather in the King's hall seeking shelter from the beasts that lurk in the night.
Our hero, Beowulf, travels to King Hrothgar's land to defeat a monster and save a kingdom, for that is what great heroes do. But Grendel, the creature condemned by God, is grim and vengeful, strong and horrible. Beowulf and a few brave enough to join him, embark on the quest to vanquish the foul fiend. Courage, cunning, and might may win the day and the laurels of battle, but once an adventurer, always an adventurer. Beowulf's life continues anon with heroic and mighty deeds until a Dragon is awoken and the elder statesman must face a final test of his bravery, alone. This mythic tale, over one thousand years old, cries to be experienced aloud, reminding us of the importance of a good story well told.
Why We Chose This Story: The tradition of oral storytelling is the nexus of literature and theatre, so what better way to honor the legacy of story and the return to in-person theatre than bringing to life a written adaptation of a spoken epic poem. This historical through-line is a poignant reminder of where we come from. And a grand adventure with swords and monsters is just good fun!
For Fans Of: Tolkien's The Lord of the Rings, Homer's The Iliad, Stoker's Dracula
Content Warning for This Play: Graphic and explicit descriptions of violence, blood, and gore.
Our Content Warnings are applicable to our productions and are not necessarily inclusive of all subject matter that may be found in the books from which they are adapted.
---