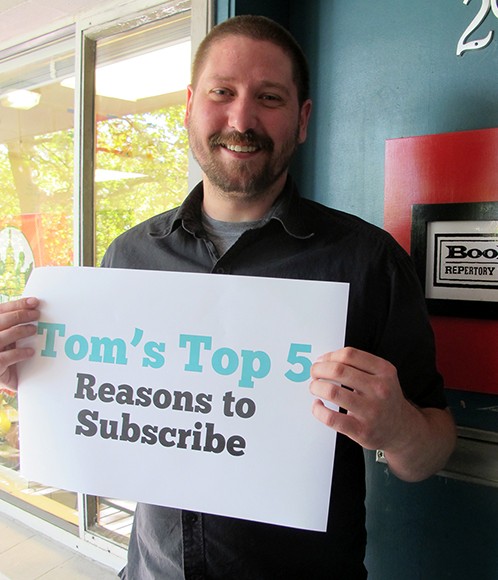 Tom Dewey is Book-It's Lead Box Office Associate (the guy on the phone when you call about tickets) and a frequent on- and back-stage denizen, too, and he's here to give you his Top 5 Reasons to Subscribe.
Look for more tips from Tom as our Silver Jubilee Season rolls on.
---

Book-It shows are good, and a subscription means you see them ALL.
Just sign up once and never have the thought, "Oh, I'd wish I'd taken the time to go see the show that just closed." Especially with our Silver Jubilee special prices: just $150 for all five shows. You can't pass it up.

Subscribers get free exchanges! All season long.
From my personal experience, I don't know what my schedule will look like a few weeks in advance, let alone half a season. Free exchanges means you don't have to worry if your "Ballard Bruisers" Kickball team makes the championships on the weekend of your Little Bee performance. Also, you get to talk to me!

Artists need to create. It's in our blood. We'd go insane if we only got to work on five shows a year, so there's always a lot going on at Book-It.
As subscribers you get the inside scoop on all workshops, stage readings, special editions, Family Fun Days, pre-show panels, and post-show talkbacks—and our 25th Anniversary Gala. Most of these events are free, and some are invitation-only just for our subscribers.

An advantage of being situated in a vibrant neighborhood like Lower Queen Anne is the great food and nightlife in the area.
Book-It subscribers get a VIP card that entitles them to discounts at our partner restaurants and bookstores. You can go to Ten Mercer for a preshow snack, and then hop over to Solo Bar for a post-show nightcap (if you're lucky you'll run in to some thirsty actors fresh out of the dressing room). Get a discount on the book and read it before you come see the show. Don't just spend a few hours in the theater; spend a whole evening enjoying the neighborhood.

Yes, you're setting up tickets for a season, but you are also joining a community.
Book-It started selling subscriptions 20 years ago, in 1994, and many of those first-round patrons are still with us. One of my favorite jobs every year is taking in the subscription renewals because I have an opportunity to talk to all of our friends. We relive our favorite past shows, and look forward to the season to come. We complain about the Mercer Corridor Project, cheer about the 'Hawks victories and gripe about their losses. Mostly we just enjoy sharing the experience of theatre with each other.
---
[thb_button-large color="black" link="https://book-it.secure.force.com/ticket/#details_a0SG000000JCB2LMAX"]Subscribe today![/thb_button-large]