Publications & Media Manager Shannon Loys sat down with our Pride and Prejudice newlyweds, Amy and Trick Danneker. Amy (formerly Amy Hill) is playing Kitty Bennet and Trick is playing Mr. Bingley.
---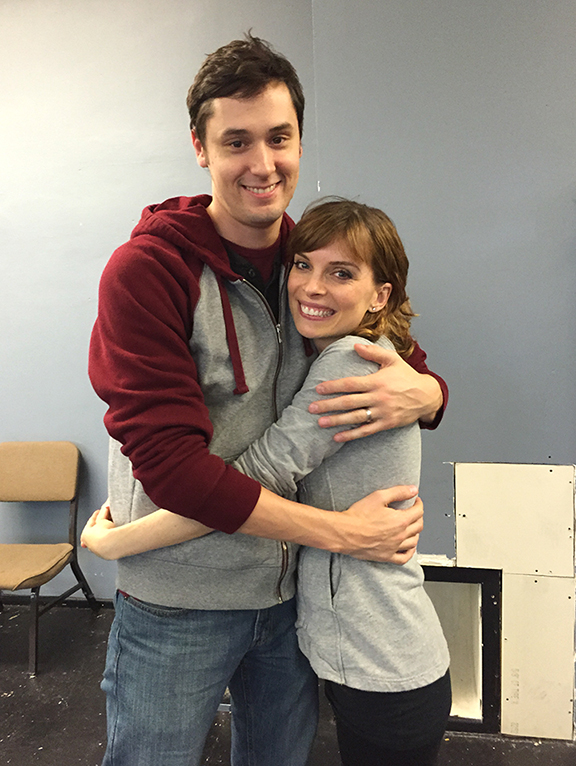 SHANNON: Congratulations on getting married!
AMY: Thank you!
S: It was a big deal in the theatre community, yeah? Two beloved local actors getting married?
TRICK: Oh (laughs) I don't know. It was a big deal to us!
S: When were you married?
T: September 7th.
S: So it's been…
T: Almost two months!
S: Have you guys been in a show together before?
T: Oh yeah.
A: We have. …Five?
T: This is our fifth.
S: Woah.
T: Yeah. We met doing As You Like It at Harlequin Productions in Olympia. We were not playing lovers. In fact, we've never played—no, that's not true. We've played lovers one time, in a 14/48 play in which we were in a polyamarous trio. So I basically had two wives.
S: Yeah, that almost doesn't count then.
A: No, it doesn't. (laughs)
T: And I don't think we even kissed or barely even touched each other in that play. But, we've played brother and sister, I've married her cousin, and I've married her sister… And a year after that we did Taming of the Shrew together at Harlequin again. Then we did the 14/48 play, which is by pure happenstance, because that's all cast at random. And then, um, a few years ago for Seattle Shakespeare Company, we were in Pygmalion together.
A: With Jen Taylor.
T: With Jen Taylor. And that's when we played brother and sister.
S: Was that weird playing brother and sister?
A: It was kind of fun in a weird way.
T: It was, yeah. In the very first scene she's really upset with me and she gets really snippy with me and telling me I'm not doing a good job at trying to find a cab for our mother when it's raining out. So it was fun to have a little back and forth kind of thing. We knew each other so well that there's a familiarity there.
A: I think if we were playing lovers, I'd be more… I don't know, nervous?
T: Yeah, that'd probably be a little weird, actually.
A: Like everyone's watching us.
S: Because they know that it's real on some level?
T: Yeah.
A: Yeah, and there's more pressure! But playing his sister is just fun.
S: Pride and Prejudice is definitely a romantic story. Has it been fun being in a romance together, even though you're not playing each other's love interests?
A: I'm going to answer first.
T: Please.
A: It is a blast. This is one of my favorite books and growing up I had a literary crush on Mr. Bingley. So when Trick got cast he was like, "Well, I got cast. Yay!" and I said, "NO, YOU DON'T UNDERSTAND. YOU'RE MR. BINGLEY." (laughs)
S: He's a great character.
A: Yeah he is. I fully support the casting decision there.
T: I just think it's fun to be able to try to bring all that to life. You know, the great part of the Book-It Style is that everything I need to know about the character is accessible. Everything they say about me—and they say a LOT about me—they probably say more about me that I actually say myself. It's fun to be able to base what I do on that.
A: What do you think Mr. Bingley thinks of Kitty?
T: (Thinks) I think that both Kitty and Lydia are charming young women and certainly will be a catch for somebody someday. But perhaps that someday will be a few years down the road.
S: (To Amy) Do you think Kitty has a crush on Mr. Bingley?
A: Totally. (laughs) I think Kitty has a crush on the doorman. She's just that age.
S: If it moves and it's male.
A: Yeah. There's a point in one of the balls where Mr. Bingley comes up and introduces himself to Kitty and Lydia, and I love getting a moment to portray that.
T: They don't stop bouncing. (demonstrating) They bounce the whole time. That's the only way I can describe it, is that Kitty and Lydia just bounce a lot. (laughing) They're very bouncy girls.
A: It's just fun to be in a really happy, lovely, fun, romantic show, especially during the holidays. I can't wait for our families to come see it. And then we get to spend the holidays together, too.
S: So when you two get up in the morning you're together, then you come to work–which is rehearsal–and are still together, and you go home together. Is that a blessing, or a little bit of a mixed blessing?
A: It's the best.
T: Yeah. It's great. We can make lunch for each other. And we can put our lunches in the same sack.
S: Convenience factor.
T: Yeah, exactly. And we can walk here because we live close by. We can walk to rehearsal. We get to have a nice little stroll.
A: Yeah.
T: And the truth is we don't actually interact a lot together on stage. So we still kind of have that separation during the day. Mr. Bingley is not in a lot of the Bennet sisters' scenes and Kitty is not in very many of the Mr. Bingley scenes. So it's actually kind of rare sometimes when we are called [to be at rehearsal] at the same time.
S: Especially early on.
T: Exactly. Once we start getting into runs and especially once the show opens, it will be even nicer to be able to have that time.
A: But I can imagine it would be hard if we were playing Mr. Darcy and Elizabeth. There're a lot of dynamics there through that whole story. I could imagine that that would be really, really tough. That'd be hard to go home and separate it.
T: I think you're right.
A: So it's fun that I get to hang out with a bunch of girls. And you get to hang out with the dudes all day.
S: Do you bring the accents home?
T: No.
A: We have two cats at home so when we get home it's immediately—
T: It's not British. It's kitty talk. "My fluffy little princess."
A: "Hello, little girl."
T: Roxy and Jazzy are our two cats' names. With a "y." R-O-X-Y
S: You're welcome to send a picture of the cats and we'll include it on the blog.
T: It might go to their heads though. They might get an ego. Hmm…there is a good picture of them cuddling, so maybe we'll send that.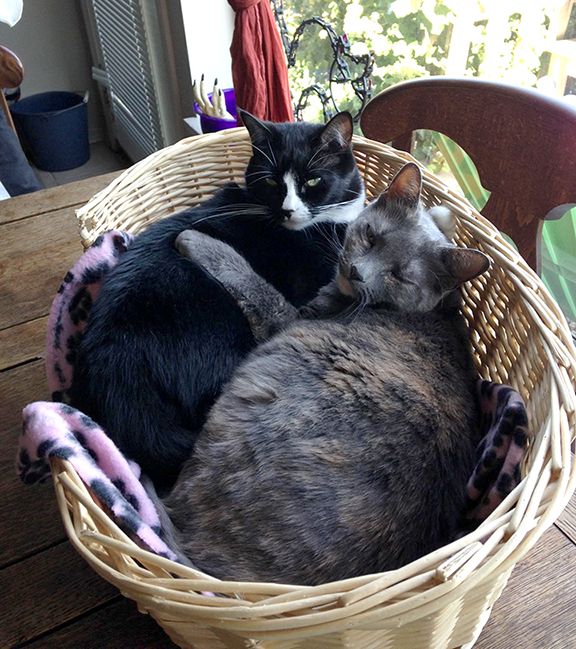 ---
See Trick and Amy in Pride and Prejudice, on stage November 25 – December 28. Tickets are on sale now.