Ian Stewart takes us through the seemingly daunting process of the Audition.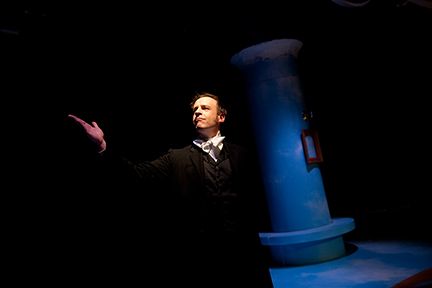 [quote]John Bianchi savors the spotlight as Mr. Elton in Book-It's premiere production of Emma by Jane Austen, adapted by Rachel Atkins.[/quote]
Every Book-It show grabs characters from their pages and thrusts them onto the stage—but how do we find actual people to play all those characters? Here's an inside look at how Book-It chooses actors to star in our shows.
Book-It's acclaimed adaptation of Emma in 2009 was directed by Marcus Goodwin was well-loved by audiences for faithfully condensing the meaty novel into a spirited live performance. But a new production calls for a new team and a new cast—and casting a giant show like Emma is no small task. At a first audition, each actor turns in a résumé and headshot before filling out an audition form. Then, every actor performs a monologue taken from narrative fiction for a panel of people, including the director, casting associate, and other artistic staff.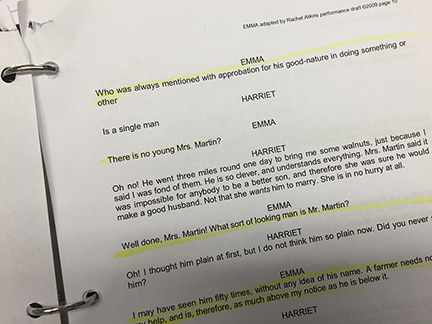 But you can't cast a show on monologues alone! At the second audition, known as "callbacks," the director selects "sides" for the actors to read. Sides are short scenes from a script that exemplify a character's traits, allowing actors to display their range of skills in a difficult or pivotal scene. Sides help the director determine which actors would be a good fit for specific roles, and provide a chance to pair actors to see if they've got any chemistry together.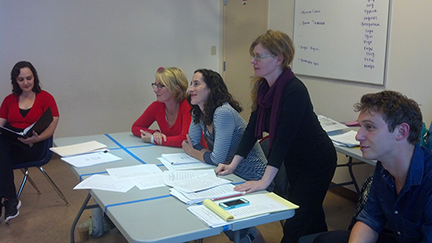 Auditions can be pretty intimidating, especially when five people are staring at you from behind a table. In the picture above (from left to right), you can see Kayla Walker, who read dialogue with actors; Jane Jones, Book-It's founding artistic director; Rachel Atkins, the script adapter; Carol Roscoe, the director; and finally Gavin Reub, our casting associate. Afterwards, the panel discusses the people they saw that day and begin the agonizing process of choosing a cast. Deliberation can take days—especially when the casting team has to weigh their preferences against actors' schedules and availability.
Thankfully, everyone came out of auditions unscathed, and our new production of Emma will begin rehearsing in October. In the meantime, meet our fabulous cast:
Christine Marie Brown* – Mrs. Elton
Sylvie Davidson* – Emma
Jaryl Draper – Mr. Elton
Meme Garcia – Harriet Smith
Laurence Hughes – Mr. Weston
Sylvester Foday Kamara* – Mr. Knightley
Serin Ngai – Miss Bates
Sara Porkalob – Jane
Brian Thompson* – Mr. Woodhouse
Dedra D. Woods – Mrs. Weston
*members of Actors' Equity Association