In honor of Book-It's Arts & Education Program, which we will be celebrating at our annual Bringing Books to Life Luncheon on October 28, we are sharing stories about how arts education changes lives. And where better to start than our own staff? We asked Development Associate Ian Stewart to share how his participation in arts education, including Book-It's internship program, shaped his trajectory.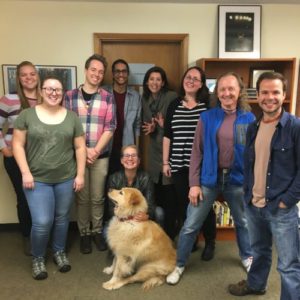 Last year I was one of Book-It's Literary and Artistic interns. As of today, I've been working in Book-It's offices for a little more than three months. I feel incredibly lucky to have transitioned from intern to employee at Book-It, and I credit it all to arts education. Arts education has not only trained me to be a better artist, but has given me the skills to succeed anywhere I might choose to go.
During my internship, Book-It gave me the tools I needed to be a better artist. Literary and artistic interns act as dramaturgs and assistant directors on Book-It's mainstage shows. But we weren't just expected to watch and listen; we were encouraged to actively participate in rehearsals, give notes to actors, and provide feedback on the adaptations. In the meantime, I was also adjusting to life in the office. Annie, our education director, helped guide me through basics like building a resume and designing a website. (In my spare time I'm also a freelance director). But I was able to learn a huge amount simply because of the wonderful people in the Book-It offices. The staff members are so open, respectful, and willing to teach on the fly that I quickly came to understand how a theatre company is run.
But my arts education experience didn't start at Book-It. I've been fortunate enough to have a ton of arts programs in my school growing up. I think it all started when I starred as the Sad Clown in my second grade musical, when I brought down the house with a heart-rending solo about my lack of circus talents. After that I was hungry to be in as many plays as I could, so I did theatre throughout middle and high school, and stubbornly got two arts degrees in college.
Unfortunately, most students, especially those from low-income families, are not as fortunate to have this much access to arts-focused education. That's why I'm so happy that Book-It targets schools with less access to arts programs to help close the opportunity gap for students across Washington.
ARTS EDUCATION IS VITAL
I may be pursuing a career in the arts, but arts education doesn't just prepare you for a career in the arts. Theatre gives students the power to speak to a crowd, to empathize with peers, and to exercise creative and critical muscles; enhanced literacy empowers us to cogently express our biggest ideas while better understanding our world. Study after study affirms how arts education vastly improves students' non-academic skills, increases school-wide attendance, and even strengthens how effective teachers are able to teach any subject.
If you'd like to learn more about Book-It's Program, please be my guest at our annual Arts & Education Luncheon! Just email me at ians@book-it.org. I mean it! If you're a teacher, student, artist, or anyone whose life has been changed because of arts education, I'd love to have you join my table at the Rainier Club. Together we can close the opportunity gap by improving literacy for every student in our state.