The following post was written by Treasure Island Assistant Director and Dramaturg Rebecca Fredrickson.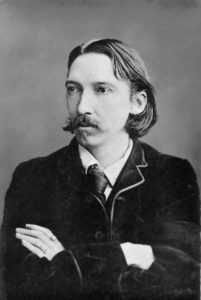 Robert Louis Stevenson (henceforward referred to as RLS) was born in Edinburgh, Scotland on November 13, 1850. He declared that he would be a writer at age 6, before he was even able to perform the act of writing. However, his father's family were world-renowned lighthouse engineers, and it was hoped that he would follow into this profession. RLS enrolled in Edinburgh University to study engineering, but found his interests lay more in the less reputable parts of Edinburgh. He abandoned school in favor of drinking, gambling, and prostitutes (among whom he became a particular favorite). His father created a compromise: if he could pass the bar exam, his father would give him 1000 pounds and get off his back.
While studying law, he became severely anxious and was diagnosed with 'nerve exhaustion'. As a result, he was ordered on a solo trip to the French Riviera in 1873 to recover. This was the beginning of his love affair with travel. Although in 1875 he did pass the bar exam, he did not begin to practice, preferring instead to continue on his path as a writer. His first volumes were non-fictional, detailing his travels through mainland Europe.
One of these trips was a journey by canoe through Belgium to France. Immediately afterward, in September 1876, he met Fanny Osbourne, her daughter Belle, and her son Lloyd. Belle was 18 and beautiful; Fanny was 35, headstrong, and still married to her estranged husband. After a brief pass at Belle, RLS and Fanny became lovers. However, Fanny took her children back to America to reunite with her husband in 1878.
In 1879, RLS received a telegram from Fanny. Although its exact contents are unknown, it so alarmed RL S that he immediately traveled to California to be with her. He crossed the ocean in second class on a steamer, then traveled from New York to San Francisco on a train. To his great disappointment, Fanny was not particularly excited to learn of his presence; nor was she willing to divorce her husband. In addition, the strenuous trip ruined RLS's health, and he spent the rest of his life battling lung problems. Fanny was utterly convinced that he had tuberculosis, though doctors were never able to agree on an official diagnosis. Whatever the cause, he suffered from frequent debilitating hemorrhages that caused him to cough up blood.
After considering her options, Fanny did decide to divorce her husband, and in 1880 she and RLS were married. They honeymooned at an abandoned silver mine in the mountains of northern California in the hopes that RLS's health would recover. They eventually moved to Scotland, and after initial suspicion, RLS's parents loved Fanny like a daughter. However, the climate of Scotland was not conducive to RLS's lungs, and he spent some time at a retreat for tuberculosis sufferers in Switzerland called Davos. It was here that he wrote parts of Treasure Island (more on that later).
He, his wife, and his stepson Lloyd continued to travel, notably setting off in a schooner to explore the south seas. In December 1889, the three of them moved to Samoa. They originally intended to stay for only a few weeks, but RLS fell in love and decided to build a grand, Scottish-style house on the island, complete with the only fireplace in Samoa (although it didn't actually work; the chimney design was flawed). Here he lived with a rotating cast of family members, including Fanny's daughter, her husband, and their son, until his death in 1894. Towards the end of his life, he was nicknamed Tusitala, which mean s 'writer of stories' in the Samoan language. After his death, and following his wishes, he was buried at the top of Mount Vaea, the hill behind his home that he was so fond of climbing. His grave is adorned by an 1887 poem of his, called 'Requiem': "Under the wide and starry sky, / Dig the grave and let me lie."
The Writing of Treasure Island
In August 1881, while living in Scotland, RLS sketched out a treasure map and labeled it 'Treasure Island'. From there, the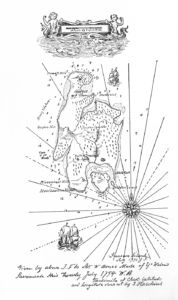 words seemed to flow like water. He wrote the first 15 chapters in 15 days, and every night he would read them aloud and receive feedback from his father and stepson. However, here he hit a block; it took him nearly two months to write chapters 16-20. Then, in October, he and his family retreated to Davos (the tuberculosis colony) for his health, where he regained his inspiration and wrote the final 14 chapters in 14 days. He took a 15th day to re-read the manuscript and, satisfied, sent it off to London to be published serially. He was paid just 30 pounds for the completed manuscript in November of 1881.
Although initially unremarked upon, Treasure Island was republished as a single-volume novel in 1883, for which RLS was paid the heftier sum of 100 pounds. This volume was dedicated to Lloyd, his stepson. The book saw immediate and long-lasting success, and the rest is history.
Our thrilling adaptation of Treasure Island runs Nov 22-Dec 24. Click here for more information and tickets.
Want to learn more? Check out these books!
Irving S. Saposnik. "Robert Louis Stevenson".
Robert Kieley. "Robert Louis Stevenson and the Fiction of Adventure".
Alex Capus. "Sailing by Starlight: In Search of Treasure Island".
Ernest Mehew, editor. "Selected Letters of Robert Louis Stevenson".
Angelica Shirley Carpenter. "Robert Louis Stevenson: Finding Treasure Island".