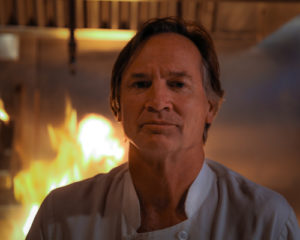 Book-It is thrilled to announce we will be honoring Seattle restaurateur John Platt at our 2017 Annual Gala on Saturday, March 25, 2017, at W Seattle Hotel. Platt served as Book-It's first Board President from 1990-1999 and has continued to be an ally to Book-It and other arts organizations through his community service. Over the last 27 years, his generous spirit has shone through his dedication to education, the arts, and the homeless.
Platt says, "I started on the Book-It Board when it was composed only of actors, actors nervous about losing artistic control to a bunch of moneyed non-actor types. I certainly wasn't moneyed, but I was a non-actor, and I'm proud I was able to usher in a board of supportive and visionary community members who could help Book-It become exactly what it dreamed of becoming.  Wow."
In 1996, Platt left his teaching position as Upper School Principal at Charles Wright Academy in Tacoma for the food industry. He spent the next three and a half years learning the restaurant trade, including jobs at Coastal Kitchen and The 5 Spot, and working for Tom Douglas at Dahlia Lounge. He quickly moved up the ranks from waiter and bartender to assistant manager at The 5 Spot and the general manager at Coastal Kitchen. He cooked "orphan dinners" for the cast and crew of the first production of The Cider House Rules at Seattle Repertory Theatre, co-directed by Tom Hulce and Book-It's Founder and Founding Co-Artistic Director Jane Jones.
"John was a huge banner waver for Book-It in the early days, believing in our mission and bringing folks to the table who would understand and appreciate the colossal effort we were undertaking as artists. Also, his love of literature was always an inspiration. And…he was willing to feed us! The starving artist syndrome is actually a reality, and John embraced the opportunity to cook for us whenever an event presented itself," says Jones.
In 2000, Platt paired up with Paul Butler (who also served as a Book-It board member in the late 1990s) and opened St. Clouds, a bistro in Seattle's Madrona neighborhood. St. Clouds was named after the orphanage in The Cider House Rules. While serving a mix of traditional comfort food and contemporary seasonal cooking, Platt and Butler's bistro is also known for their "Homeless Cooking Project," which started in 2001. "Homeless Cooking Project" serves delicious meals to over 500 people at eight shelters each month.
"We have wanted to honor John for a long time; he was invaluable in helping get Book-It get off the ground. His passion for teaching and his contributions as an educator helped inspire our work in the schools," says Co-Founding Artistic Director Myra Platt.  "John's vision of bringing people together around a table has always been about sharing thoughtfully and joyfully. He has made a huge difference in the community and has touched so many peoples' lives. We're thrilled to fête him as our Well-Sung Hero of 2017."
Book-It's 2017 Gala includes a cocktail reception, sit-down dinner, live and silent auctions, and live performances. Music will be performed by Tom Bennett and The Rolling Blackouts, who play weekly at St. Clouds. The gala celebrates all things Book-It with an anticipated attendance of over 200 people and a $140,000 fundraising goal. Last year, Book-It's gala raised $120,000 including donations from over 75 Seattle companies. Tickets available here.
All proceeds benefit Book-It's mainstage and education programming. Book-It has produced more than 125 world-premiere stage adaptations of great literature including such hits as The Brothers K by David James Duncan, The Cider House Rules by John Irving, Hotel on the Corner of Bitter and Sweet by Jamie Ford, and Slaughterhouse-Five by Kurt Vonnegut. Each year approximately 20,000 people attend Book-It's mainstage shows at the Center Theatre at the Armory and over 60,000 students and educators experience Arts & Education programming in 200 schools, libraries, and community venues throughout Washington State.