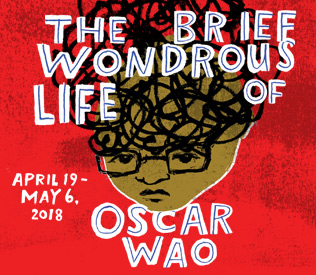 We're hosting an adaptation of The Brief Wondrous Life of Oscar Wao by Junot Díaz April 19-May 6. See below for some important glossary terms.
Fukú
A curse or doom of some kind
Fukú Americanus
Described by Junot Díaz as "the Curse and Doom of the New World." This curse didn't exist before the arrival of Christopher Columbus. With colonization, the Europeans "unleashed fukú on the world…," bad luck and tragedy, which spread through the Dominican Republic and beyond. Centuries later, Columbus' name can bring about calamity on you and your family if spoken aloud or even heard. It doesn't matter if you don't believe in superstitions, because, according to the narrator Yunior, "fukú believes in you."
The protagonist Oscar de León is obsessed with the fukú that has plagued his family for generations. Oscar's grandfather, who opposed dictator Rafael Leónidas Trujillo Molina, came down with a fatal case of fukú in 1946. It is unclear if Trujillo was the Curse's master or servant but it was believed anyone who plotted against Trujillo "would incur a fukú most powerful, down to the seventh generation and beyond."
Zafa
"A good luck charm or a counterspell. You say a zafa to protect yourself from a curse." In Oscar Wao, narrator Yunior (considered to be the alter-ego of author Junot Díaz) wonders if writing this story "ain't a zafa of sorts. My very own counterspell." Díaz, who struggled with learning English as a second language, credits books with saving his life.
Glossary by dramaturg Tina Polzin. Get your tickets to see The Brief Wondrous Life of Oscar Wao.