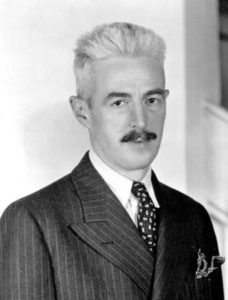 Samuel Dashiell Hammett, born in Maryland in May 27, 1894, popularized the hardboiled detective genre that provided the foundation for "film noir," and created some of the most enduring characters in fiction with Sam Spade (The Maltese Falcon) and Nick and Nora Charles (The Thin Man).
Hammett drew on his experiences as a detective for the Pinkerton Agency to give authenticity and blunt realism to his work. He claimed that "all my characters were based on people I've known personally or known about." His prose had a modern cinematic quality and snappy, almost melodic dialogue that translated effortlessly to the screen. John Huston's screenplay for his 1941 adaptation of The Maltese Falcon is almost a direct transcription of Hammett's novel.
The Thin Man (1934) was Hammett's last novel and inspired the hit film from the same year, which itself generated five sequels, all starring William Powell and Myrna Loy. The famous rapid-fire banter between the hard-drinking, crime-solving Charles duo was based on Hammett's tempestuous relationship with playwright Lillian Hellman.
During the 1950s, Hammett, a WW1 veteran, was investigated by Congress and testified before the House Un-American Activities. He refused to cooperate with the committee and along with many others was blacklisted. A lifetime of heavy drinking, coupled with time spent in West Virginia federal penitentiary for contempt of court, ravaged his health. Longtime companion Hellman tended to him for the years prior to his death from lung cancer in 1961.
From Stephen Robinson, dramaturg for The Maltese Falcon. See this thrilling mystery at Nordo's Culinarium Feb 8-Apr 1.