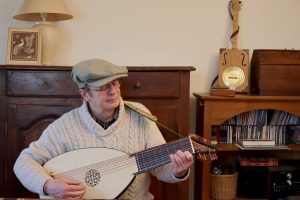 For our production of The Canterville Ghost, we were fortunate enough to have a beautiful rendition of Dove Son Quei Fieri Occhi performed on lute by Valéry Sauvage. Here is a little bit about this amazing artist…
Valéry was born in Rouen, France, in 1954, but spent his early years in Africa. That formative time in Bobo-Dioulasso, Burkina Faso, led him to feel "like I am African by heart." The beating of this heart began its musical journey at age 11, with classical guitar followed by the lute. This made sense as Valéry's father introduced him to Italian Renaissance lute music, as played by Walter Gerwig, from an early age. Sauvage knew this was the instrument he wanted to play. Of course, lutes are harder to come by than guitars, thus he began with the more common instrument and worked his way toward his goal.
He studied music at Toulouse Academy of Early Music (Conservatoire de musique, Département de Musique Ancienne) and graduated in 2002. Along the way, Sauvage also learned to play "all kinds of plucked strings," such as guitar, lute, ukulele, and harp. He even composes small pieces for ukulele. In addition to these, he plays the African instruments balafon, nyunga nyunga mbira, thianhou, and n'goni. He did have to give up the diatonic accordion, however, "because my cats love music by NOT accordion."
Valéry's artistic talents extend to other media, as well. He is a writer of poetry, fairy tales, and novels; he is a self-taught painter, in the style of Douanier Rousseau; and he is a prolific nature photographer.
After retiring from a career as a computer technician, he now resides in Poitou, Nouvelle Aquitaine, where he's reading an essay by Pierre Hadot on Early Greek Philosophers.
You can experience Valéry Sauvage's work at https://Valéry sauvage.wordpress.com/
Or visit his YouTube channels: https://www.youtube.com/user/Luthval
https://www.youtube.com/user/UkeVal