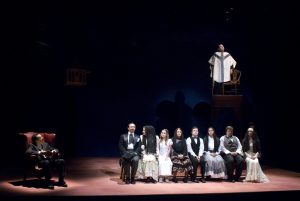 If you're a longtime Book-It patron, you may hear "Book-It show" and think of iconic productions like 2010's The Cider House Rules or 2007's The House of the Spirits (shown here)—shows with 18-person ensembles that filled the stage and brought great works of literature to life with a multitude of storytellers working in unison. But if you've joined us in more recent seasons, perhaps the term conjures up 2018's production of The Brief Wondrous Life of Oscar Wao, 2019's Returning the Bones, or Beowulf (all shown below), which opened at the Alhadeff Studio Theatre last weekend.
What do all those shows have in common?
They all feature just one performer.
While bards, rhapsodes, and scops have been singing songs and telling stories on stages since the time of, well, Beowulf, solo performance became an explicitly theatrical tradition in 18th century England, according to scholar Jordan R. Young. When the Licensing Act of 1737 made illegal all performance outside of London's two licensed theatres, performers began staging clandestine solo shows in private drawing rooms, lecture halls, and pubs across the city, defying the state and, in doing so, creating a subversive new theatrical form. Solo performance continued to be practiced by rebels and iconoclasts throughout the 19th and 20th centuries, finding small but devoted audiences in art galleries, church basements, and, every so often, in theatre spaces. Today, we're in something of a golden age for solo performance, due both to practical concerns (theatres worldwide have found solo shows cheaper to program and more pandemic-proof than large-cast spectaculars) and the brilliance of solo artists like Anna Deveare Smith, Heidi Shreck, Taylor Mac, and Seattle's own Sara Porkalob.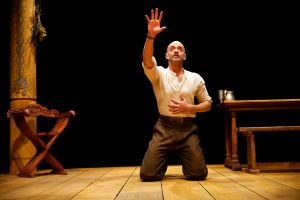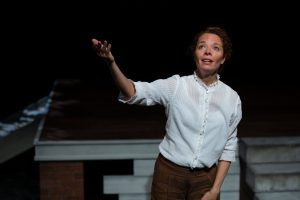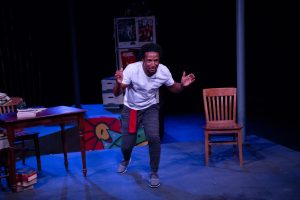 What makes a solo show so unique? Many present-day practitioners would say the answer lies in concocting a deeply personal blend of vulnerability and virtuosity, forging an intimate connection with an audience while embodying a whole play's worth of characters and ideas. At Book-It, where our focus is on bringing books to life and inspiring audiences to read, solo shows also give us a chance to shine a light on the way stories were told before the ubiquity of the written word, when audiences would gather—around a campfire, in a rowdy tavern, or, perhaps, in a great king's banquet hall—and simply listen. In Beowulf, Brandon J. Simmons brings to life a story that is both as old as humanity and remarkably contemporary, using storytelling methods that are much the same as those ancient methods used by scops and bards.
We think it's something really special.
We can't wait to see you there.
Beowulf is at the Alhadeff Studio Theatre on the Seattle Center campus now through August 7th.
---
Photos: The cast of The House of the Spirits, photo (c) Erik Stuhaug; Brandon J. Simmons in Beowulf, photo (c)Anthony Floyd; Gin Hammond in Returning the Bones, photo (c) John Ulman; and Elvis Nolasco in The Brief Wonderous Life of Oscar Wao, photo (c)John Uluman.