Book-It is teaming up with The Bushwick Book Club Seattle on the third volume of Circumbendibus to celebrate sci-fi, graphic novels, and new media. Adapted by Samara Lerman and David Goldstein, Geek Out plays December 28 & 29, 2012 at the Erickson Theatre.

Read more about Book-It's new late-night series here.
Adapter Samara Lerman writes about Book-It's long-anticipated detour into the world of geek literature.
---
I immediately jumped on the opportunity to work as an adapter for Geek Out. I have worked with Book-It in many capacities and love the Book-It style.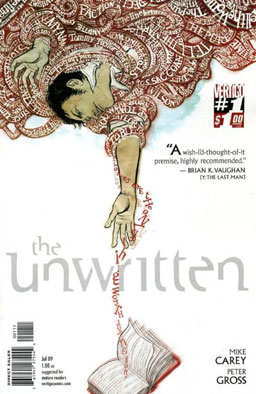 As someone who unabashedly reads (lots and lots of) comic books, I was very interested in how a primarily visual medium could translate into the Book-it Style™. The beauty of using the Book-It Style for the fantastical is that the author's narrative gives us the ability to stage magic that would otherwise be impossible without the aid of a green screen and a team of special effects wizards.
My contribution for the evening is an adaptation of a section from the graphic novel series The Unwritten, by Mike Carey. The Unwritten is full of fantastical magic and sly literary references to Moby-Dick, Mary Shelley's Frankenstein, and The Arabian Nights, along with many other great books.
It was very important to me from the beginning of the process that we treat all of the material we adapt for Geek Out with the highest respect. Our purpose is not to send up science fiction, fantasy, and the graphic novel, but to adapt it with as much care as we would a work by Jane Austen or Charles Dickens.
It's been a ball bringing the pages of one of my favorite comics to life. I invite you to suspend your disbelief and join us as we explore the future, the other-worldly, and the impossible
The other pieces featured in the Geek Out evening are Black Box by Jennifer Egan adapted by Andy Jensen The Lifecycle of Software Objects by Ted Chiang, adapted by David Goldstein, and Instructions by Neil Gaiman.
Looking forward to seeing all you geeks at the theatre!
-Samara Lerman