David Quicksall is an actor, director, adapter, teaching artist, and member of the Book-It Repertory Theatre board of trustees. His perspective on new work development is unique, so we asked him to share some insights about "Why a Novel Workshop."
---
As a writer, adapting a novel for the stage is a herculean effort requiring a vital commodity that can be very hard to come by—time. The solitary work of the writer needs time to not only get words on paper, but to relax the mind, which allows the imagination to move through the entire novel so that a cohesive interpretation can emerge. Some novels are easier to wade through than others, interpretively speaking. Some others, The Count of Monte Cristo, for example, at over 1,200 pages and nearly a dozen principle characters, requires more time for the imagination to work.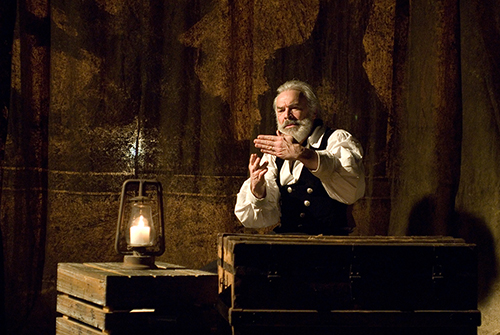 Sitting down to write a script is just one part of the process in bringing a novel to dramatic life; the other part is hearing it read aloud by actors. Reading is a solitary act; theater is a shared experience. The biggest leap for a novel to make, figuratively speaking, is from "the page to the stage." The writer's job is to orchestrate that leap through writing a script and then editing that same script after hearing it read aloud by actors, which requires even more…TIME.
A workshop allows an opportunity for the writer to step outside of his/her solitary confinement and put the script through its paces. Characters can be more sharply defined by adding more descriptive language or action. Plot lines that weren't evident before can be further developed because of critical feedback from actors and audiences. Superfluous text can be trimmed away as a result of hearing the language aloud, as opposed to reading it silently.
By investing in workshop time for potential scripts, Book-It offers the writers almost two weeks with directors, actors and (another critical component to theater) an audience to figure out whether a novel has dramatic potential. I would argue that some novels do not translate well to the stage – better to realize that in a workshop than find out the hard way!
— David Quicksall
---
Click here for more information about Book-It's upcoming Novel Workshop Series!