I open my email and the first thing I see is "pumpkin pie session at 1p.m.!" Immediately, my day just got better. I walk down the hall toward the printer and I'm greeted by fellow Book-It-eers (they are all equally excited about the pumpkin pie). As I settle back into my desk, I begin to prepare for meetings and exciting projects I have lined up; all the while reflecting on the great opportunity I have to work in a smart and imaginative environment. And so begins a day in the life as an intern with Book-It Repertory Theatre.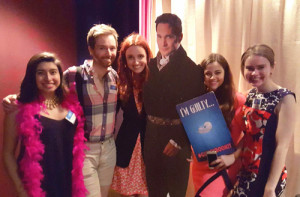 Athena, Ian, Shawna, Fitzwilliam Darcy*, Laura, and Caroline
all dressed up for a special event. *not actually an intern.
Pumpkin pie sessions, creative energy, and hands-on experience are just some of the perks of being an intern at Book-It; as the 2016-2017 intern recruitment time draws near, hear from some of our past and current interns, they're pretty neat!
---
Meet Caroline Rensel: Arts Management Intern
Amidst working on grant proposals and budget tracking, Caroline intends to pursue acting here in Seattle.
"There are so many moving pieces in creating a working non-profit theatre company and I really appreciate how collaborative and encouraging Book-It is. This is the kind of theatre community I want to work in."
---
Meet Ian Stewart and Laura Owens: Literary and Artistic Interns
As interns with Book-It, Laura and Ian act as the dramaturg and assistant director for main stage shows.
Ian was a double major in English and Theatre so naturally he was attracted to Book-It. During his senior year of college he wrote an adaptation of a number H.P. Lovecraft stories.
"This is my first professional theatre experience; being here I've discovered that I really enjoy working in a theatre office. As an intern, I feel like I can always ask questions because the supervisors are so easy to talk to and give mentorship freely."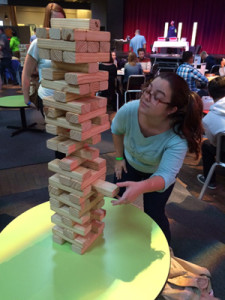 Laura (above) is about to crash the giant Jenga
game at a Seattle Center happy hour.
Excited to delve into the Seattle theatre scene, Laura was drawn to Book-It for its mission to increase literacy through engaging an audience through classical and contemporary literature adaptations.
"Everyone here is really inviting and welcoming. As an intern, there is an outline created for you, but you also have the opportunity to express your interests in other departments and get to be a part of them as well."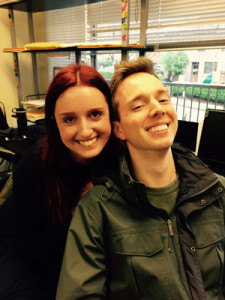 Shawna and Ian in the office.
---
Meet Shawna Grajek: Production Intern
In school she majored in both Theatre and Russian studies. For her senior thesis, she adapted Anna Karenina into a play. As she researched, she came across a theatre company that had recently done its own adaptation of the novel: Book-It, making it the first place she knew about before moving to Seattle.
"Being an intern with Book-It has taught me to be a go-getter. I've learned how to see what a company needs and how to fill in those roles. A typical day with Book-it is anything but typical. There are always new things to be done, along with continuous, longer term projects. Everyone in this office genuinely cares about you. They ask about how you're doing and actually mean it."
---
Meet Athena Duran: Marketing Intern
Currently pursuing a degree in Communications and Theatre, Athena also enjoys writing for her school newspaper and exploring the Seattle Theatre scene.
"What a delight it has been to learn and develop my skills amongst a group of people who are as passionate about their work as they are dedicated to sharing joy. Being an intern with Book-It means that you are dared to take risks, to think creatively and to join in an ongoing conversation regarding the arts and its role in fostering community."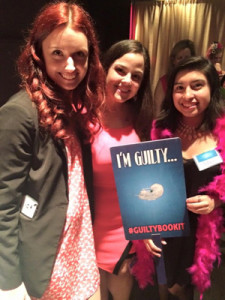 Shawna, Laura, and Athena at the special event, Guilty Pleasures.
---
Meet Leslie Witkamp: Past Development Intern
Last year she was an intern, this year she's on staff! In addition to all things Book-It, Leslie is a proponent of ballet and embroidery extraordinaire.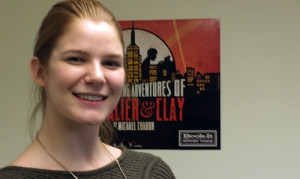 "It was an easy transition from intern to employee. As an intern I was able to absorb and learn a lot of the fundamental components to the development department. When it came to transitioning into full time, I felt that I had a solid foundation. I cherish my time as an intern however because it was a special group; we were all in a transitional period and trying to get experience, and we got to go through it together. Especially coming from out of state, it was comforting to have them as a support group."
pictured: Leslie at the office
---
Meet Samantha Cooper: Past Management Intern
After her internship with Book-It, Cooper remained on staff as a Development Associate for three years. These days you can find her in a little place called New York City where she is currently getting her MFA in playwriting from Columbia University.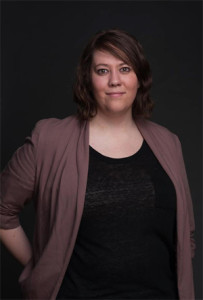 "My tasks ran the gamut while I was an intern. I learned to be open to all the opportunities that came my way; you never know what you might learn from a task or from doing a project that is not specifically related to your internship. I learned to be socially aware of the world around me because that is really important for creating relevant art. I learned that it costs nothing to be a kind and generous artist, employee, and boss. And I learned that it's not worth doing if you aren't also taking some time for a laugh, a show tune, a glass of wine, and some fun."
pictured: Samantha Cooper
---
So there you have it! Dedicated to its mission to provide participants with hands-on experience, Book-Interns are sure to gain practical and reliable skills needed to work in the world of professional theatre. Here's to a program that aims to equip its interns with an encouraging and supportive environment, while also providing the tools needed grow, learn and inspire.
Want to join in our Book-It-ish fun? Internship applications are due March 18th. Deadline extended to March 30!