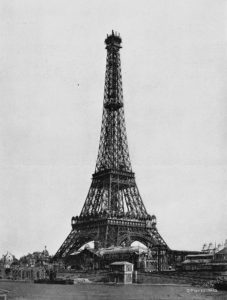 The 1920s saw a huge number of Americans moving to Paris. By one estimate, 35,000 Americans migrated to Paris between 1920 and 1927. These were writers, artists, and tourists flocking to the City of Lights for a variety of reasons, both logistical and emotional.
Historian George Wickes argues that Paris quickly became the destination for fun-loving, free-wheeling Americans: "For young Americans, Paris provided an escape from the puritanism and provincialism of postwar America, of which Prohibition was simply the most conspicuous manifestation — the America of Harding and Coolidge, of William Jennings Bryan and Wayne B. Wheeler. Paris was where you could go on a moral holiday without fear of reproach, where the natives did not confuse pleasure with sin."
There were also practical reasons to seek out Paris as a home. The main factor was the exchange rate; in 1920 the dollar was worth fifteen francs. This made the cost of living extremely cheap and allowed people like the Hemingways to live off of relatively small incomes from personal savings or trust funds.
Many of the Americans who made Paris home were artists, and there was continually a thriving colony of writers. For Hemingway, this made Paris an invaluable literary apprenticeship. He got in with all of the most famous authors, learned everything he could from them, and then made their teachings his own. He even expressed his desire to do so in a 1925 letter to Scott Fitzgerald: "I think you should learn about writing from everybody who has ever written that has anything to each you." Although his own talent and discipline are certain, this time of mentorship and learning undoubtedly shaped him into the successful author he became.
"The best of America drifts to Paris. The American in Paris is the best American." — F. Scott Fitzgerald
"Americans are always in America – no matter whether they call it Paris or Paname." — Ernest Hemingway
Our fervent, romantic adaptation of A Moveable Feast runs Feb 9-Apr 2 at Nordo's Culinarium. Text researched and collected by Book-It's 2016-17 Literary and Artistic Intern Rebecca Fredrickson. Click here for more information, tickets, and a list of books.