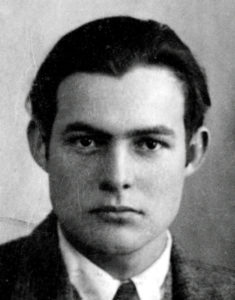 Born July 21, 1899 in Oak Park, Illinois, Ernest Miller Hemingway was raised by his physician father and musician mother. A writer from an early age, Hemingway was first published at 17 by his school newspaper and, rather than attending college, went to work for the Kansas City Star as a reporter directly after high school. He credits his training as a journalist for his short, vigorous style.
Because of his bad eyesight, he could not join the Army during World War I, and instead enlisted as an ambulance driver. In Italy he was severely wounded by mortar fire, and as he recovered, he fell in love for the first time: with a nurse, Agnes von Kurowsky. She broke off their relationship and married an Italian officer, events that would later inspire A Farewell to Arms.
Shortly after returning from the war, two things happened that changed Hemingway's life: he met Hadley Richardson, whom he married, and he met author Sherwood Anderson [Winesburg, Ohio; Dark Laughter], who convinced him that Paris was the best city for a writer to write in. Armed with letters of introduction from Anderson, Hemingway set off for Paris, where he forged friendships with the likes of Gertrude Stein, F. Scott Fitzgerald, and Ezra Pound, and wrote his first novel: The Sun Also Rises. He also met and fell in love with Pauline Pfeiffer, ending his marriage to Hadley.
Hemingway and Pauline moved to Key West in 1928 for the birth of their first child, and lived happily enough until Hemingway's 1937 trip to Europe to report on the Spanish Civil War. He fell in love with fellow journalist Martha Gellhorn, ending his marriage to Pauline. Hemingway and Martha married in 1940 and alternated between Ketchum, Idaho and Cuba. Marital bliss was not to last; Hemingway began antagonizing Martha while they were reporting on World War II, even causing her to lose her newspaper position. Their divorce was finalized in 1945, and he married Time correspondent Mary Welsh.
Hemingway and Mary traveled extensively, gallivanting across Europe and traveling on safari through Africa. During this period, Hemingway also wrote The Old Man and the Sea, which won a Pulitzer Prize and led to his being awarded the Nobel Prize in Literature. On a visit to Paris in 1956, Hemingway retrieved several trunks containing notebooks and material from his Paris years that he had stored in 1928 inspiring him to write A Moveable Feast. After a period of intense writing in Cuba, the Hemingways moved back to Idaho.
Tragically, Hemingway's family was haunted by suicide and mental illness; his father, brother Leicester, and sister Ursula all ended their own lives. He was progressively plagued by depression, memory problems, paranoia, and thoughts of suicide. In December 1960, he was treated with electroconvulsive therapy (shock therapy) at the Mayo Clinic in Minnesota. The treatment increased his difficulty with memory and his frustrations at his deteriorating ability to write.
In the early morning hours of July 2, 1961, Hemingway shot himself in the head with his favorite shotgun.
Text researched and collected by Book-It's 2016-17 Literary and Artistic Intern Rebecca Fredrickson. Click here for more information about A Moveable Feast, tickets, and a list of books.