For 29 years, we have been adapting great literature into great theatre through simple and sensitive productions. As our 2018-2019 season continues, we invite you to share in the triumph of the human spirit and experience unique stories with us this season.
You can subscribe and save! 3- and 4-show subscription packages range from $88-$180–a savings of up to 40% off single ticket prices for the same shows.
Experience the Enchanting My Ántonia
Rehearsals for the My Ántonia by Willa Cather began in mid-October. Annie Lareau, who adapted the novel and starred as Ántonia in Book-It's original 2008 production, returns to direct the 2018 production with an updated script. We can't wait to share this romantic story with you for the holiday season.
The childhood memories of narrator Jim Burden in Blackhawk, Nebraska are woven together with the struggles of his beloved neighbor, a newly-arrived immigrant girl from Bohemia, Ántonia Shimerda. The story of their friendship outlines the determination, hardship, and resilience of Great Plains life at the turn of the 20th century in this enchanting story that is a tribute to the human spirit.
"As we tell this beautiful story, may it inspire all of us to continue to fight for the rights of those now arriving on our shores, have compassion as someone surely did for our ancestors, and unfold the arms of our country to let them in. Let us create a new home together," says Annie.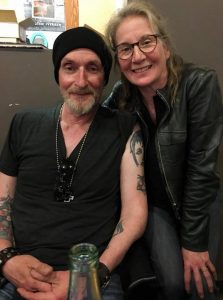 An Honest Look at Addiction in American Junkie
Kicking off 2019 is a brutally honest look at addiction during Seattle's grunge years with Seattle native Tom Hansen's American Junkie. Adapted by Jane Jones and Kevin McKeon and directed by Jones, Hansen deftly balances a raw story about the pain that inspires self-destruction with wry humor and hope.
"When I saw the Book-It adaptation of Denis Johnson's Jesus' Son I dreamed of having one of my books produced for the stage. I'm beyond honored and thrilled to see what they do with American Junkie," says Hansen.
Hansen was a pioneer in the punk rock scene in Seattle until he became hooked on heroin. He finally got clean in 1999 after six months in the hospital and in Bailey-Boushay House, a local hospice. He returned to school in 2000 and graduated with an MFA from the University of British Columbia in 2008. He is the author of two books, the memoir American Junkie and the novel This Is What We Do.
Be Inspired by Returning the Bones
In the spring of 2019, acclaimed Seattle actress Gin Hammond's inspiring, 28-character solo play, Returning the Bones transports audiences to rural Texas during the era of Jim Crow laws and into the life of a young, black medical student searching for her place in the world.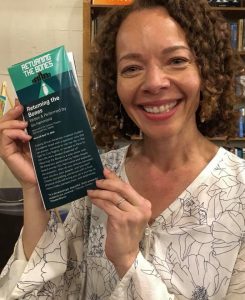 Based on the life of Hammond's aunt, Dr. Carolyn Beatrice Montier (aka "Bebe"), Returning the Bones brilliantly responds to one of life's most challenging questions: How do you choose between your country, your people, and yourself? A surprisingly comical story, Returning the Bones brings us into intimate contact with the luminaries of the day including President Lyndon B. Johnson, Eleanor Roosevelt, James Baldwin, and Queen Elizabeth, to name a few.
Coming to America with Behold the Dreamers
To finish out the season, we present Behold the Dreamers by Imbolo Mbue, which will be adapted by Myra Platt and directed by Lanise Antoine Shelley. Lanise returns to Book-It after playing the role of Young Maya in our 2003 production of I Know Why the Caged Bird Sings.
When the Great Recession starts to upend the economy, Jende Jonga and his wife Neni realize that America may not be the place full of hope and promise as they had once thought. Mbue masterfully weaves a story of class divide, immigration, and marriage in her remarkable debut novel that was a pick for Oprah's Book Club and explores the question – what would you do for a better life?
Subscribe today online or by phone 206.216.0833 and have all the benefits that subscribers enjoy including
– discounts on tickets and at partner establishments around the Seattle Center
– first notice for special announcements and events
– guaranteed and exchangeable seats, and more
Subscriptions for the 2018-19 season are available now by phone, in person, and online. The box office is open Tuesday – Friday, noon to 5pm; call 206.216.0833.
My Ántonia photo by John Ulman.